ANYTIME CUTLER GETS HIT IS A REASON TO WORRY

By Melissa Isaacson
ESPNChicago.com
Archive
Whenever your quarterback needs help tucking his shoulder pads back under his jersey, it generally means someone in the other colored shirt has entered his personal space.
And whenever it is Jay Cutler doing the tucking, it is never a good thing.
Before we get too carried away with what happened Sunday, it is only fair to point out that of the five sacks by Atlanta, only three can be blamed on the offensive line. Two came in the fourth quarter, one with Cutler falling on the ball after fumbling the snap and another with the Bears quarterback sliding down on his own in the final two minutes of the game.
All in all, it was a better-than-average game for the Bears' O-line. But that doesn't mean there still isn't room for concern with left tackle J'Marcus Webb likely to go through some growing pains as he settles into his new role.
The Falcons also were officially credited with six quarterback hits, and those are the ones that get quarterbacks hurt. And the Bears can ill-afford to get Cutler hurt.
If the injured Lance Louis can't go Sunday in New Orleans, the Bears must decide whether to stick with Roberto Garza at center with Chris Spencer at right guard, insert backup guard Edwin Williams at guard or slide Garza back to his old guard spot and start Spencer at center. While Spencer was a solid fill-in against Atlanta -- particularly on screen passes to Matt Forte -- the last thing this line needs is a loss of continuity before it actually develops it.
But more than that, the linemen have to protect a quarterback who has had a 100-plus passer rating in six of his last nine games, including the playoffs.
"We did a good job [Sunday]," Garza said, "but obviously Jay got hit and we can't allow that to happen."
Melissa Isaacson is a columnist for ESPNChicago.com.
You've heard our takes; now give us yours. DISCUSS
FIRST GAME ASIDE, NO NEED TO WORRY ABOUT SACKS

By Jon Greenberg
ESPNChicago.com
Archive
Jay Cutler finished the 2011 season opener hale and in good spirits. Throwing for 300-plus yards in a dominant 30-12 win will do that.
Cutler was hit six times by the Falcons, who were initially credited with five sacks. That number looks bad but is misleading. Two sacks came in the fourth quarter, on a Cutler mishandled snap and a slide to run the clock down.
That brings the total down to three sacks -- two from John Abraham. Certainly not a number to crow about, but the mistakes were manageable. All three came in the first half.
Tackles J'Marcus Webb (two holding penalties) and Gabe Carimi were culpable for some of Cutler's pressure and they will certainly be targeted, and likely abused, by New Orleans and its defensive guru Gregg Williams this week. But aside from a few rough games, I don't think we're going to see a repeat of Cutler's first two years in Chicago.
Mainly because line coach Mike Tice, ear pencil in tow, seems to have a pretty good idea of how to coach this ragtag bunch, but also because Cutler and his receivers look to have a better grasp of the offense. There is a symbiosis there.
Like most critics, I thought the Bears should have done more the past three years to protect Cutler, but this is what they have, and I'm starting to think it's not as bad as we think. Olin Kreutz is certainly missed, but Roberto Garza can hold his own -- Cutler is raving about him -- and swing guy Chris Spencer filled in well for guard Lance Louis, who left with an ankle injury.
The common fan, or in my case, the common columnist, only pays attention to the offensive line when it does something wrong. Our eyes follow the ball. But one positive moment that stuck out to me was Cutler's second completion of the game, a 23-yarder to Roy Williams. Cutler had five seconds to throw during the classic Martz play, which needed every second to develop.
There were a few plays like that, I'm sure, and the result was a wide-open receiver and a pumped-up Cutler. I have a feeling that's going to be a recurring image this season.
Jon Greenberg is a columnist for ESPNChicago.com.
LISTEN LIVE!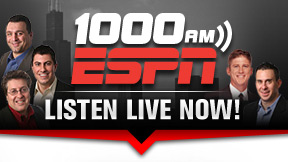 Want to sound off on today's Hot Button topic? Give us a call at 312.332.ESPN. Listen Live