IN THEO WE MUST TRUST

By Scoop Jackson
ESPNChicago.com
Archive
When it comes to power moves, when it comes to Chicago's teams making a big transaction in the midst of epic necessity -- especially when dealing with acquiring players -- we hardly ever get it right.
The Cubs needed a star, they went out and got Alfonso Soriano; the Bulls needed an All-Star, they went out and got Ben Wallace; the Bears needed a savior, they came back with Jay Cutler.
Notice a trend?
Enter Theo Epstein. The curse-killer. The non-player acquisition who fits the city's recent pattern of bringing big-timers with big names for big money in to redirect the downward trajectory every team in the city seems to go through too often.
Despite the cloud and questions surrounding his potential exit from Boston, Epstein as GM of the Red Sox proved -- twice! -- that adidas isn't the only one that believes impossible is nothing.
But saving the Cubs is not what Theo was brought here to do, assuming the teams can work out compensation. It's so beyond that.
Epstein is here to one day make that blue "W" actually have meaning, make it stand for the final game on baseball's postseason schedule. Like Jake and Elwood who came to Chicago before him: He's on a mission from God.
And in Theo we must trust. Damn the payroll; damn whoever the manager will be; damn the Triple-A pitching staff; damn the fact that Bill Madlock was the last true .300 hitter the organization has employed; damn that the Cubs are in the same division with two teams that are as we speak playing against each other in the league championship series. Epstein comes to us with two intangibles no one before him in any capacity or position has come here with: 1) being living proof that Jerry Krause was right when he said "Management wins championships. Not players" and 2) being void of fear of losing.
Just the simple fact that Epstein is so not afraid of ghosts and goats, black cats and Bartmans, makes him the only person in baseball who can come here and not be affected by the history of baseball on the North Side.
Why? Because, like I said, he has already done the impossible ... twice.
Scoop Jackson is a columnist for ESPN.com and ESPNChicago.com.
ODDS, REALITY ARE AGAINST THEO'S TITLE HOPES AT WRIGLEY

By Tom Waddle
ESPNChicago.com
Archive
I think the odds are stacked against Theo Epstein winning a World Series with the Cubs, assuming he comes to Chicago. He has to completely rebuild the minor league system, he has to rebuild this roster and he has some bad contracts.
I think the likelihood the Cubs will win the World Series is greatly enhanced by having someone of his talent in that position. I'm just playing the odds. You tell me I have to go to Vegas and bet my own money on whether the Cubs are going to win a World Series in the next 10 years, the odds tell me, the stats tell me, "No."
So I took my heart out of the equation. I just used my head and stats and numbers. I'm a numbers guy.
And I don't believe in any of that negative Cubs mojo. I believe you have a left fielder who can't play and is being paid $18 million for the next four seasons. I believe you have a pitcher making almost $18 million and he can't control himself. It has nothing to do with mojo.
The fact he won two in Boston makes it more likely that the Cubs will win a World Series than if they didn't have Theo, but I'm just strictly going by the odds. Odds say that this team is not nearly as talented as others in the National League or American League, so it's going to take a long time to procure talent and to develop that talent, and who knows if ever he will be able to put a squad together that's the best in the National League and ultimately the best in Major League Baseball? So I'm just playing the odds.
I think chairman Tom Ricketts will give him a lot to work with. I don't think he'll have a $170 million payroll. But I do think he'll have money to spend. But again, if Tom Ricketts said, "Here's all the financial flexibility in the world," then I think it's even more likely it'll happen. But if you're asking me for a common-sense response as to whether the Cubs will win a World Series with Theo, knowing he has to rebuild the farm system and get rid of some bad contracts ... Theo can't do the job for 25 years. So based on statistics and odds, I would say, "No."
Tom Waddle is co-host of "The Waddle & Silvy Show" on ESPN 1000 and a former Chicago Bears receiver.
You've heard our takes; now give us yours. DISCUSS
LISTEN LIVE!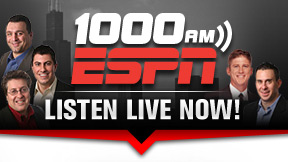 Want to sound off on today's Hot Button topic? Give us a call at 312.332.ESPN. Listen Live