AFTER QUADE MULLIGAN, TIME TO HIRE RYNO

By Melissa Isaacson
ESPNChicago.com
Archive
We saw how it worked when Jim Hendry hired Mike Quade to essentially bridge the gap during a transition period for the Chicago Cubs.
Transition or not, new Cubs president of baseball operations Theo Epstein, along with his new general manager, has to make a fresh start with a new field manager. And there would be no better way to ensure the current feeling of good will and general elation than to hire fan favorite Ryne Sandberg.
As it happens, Sandberg is also actually qualified for the job, which is a bonus if not always a given with the Cubs.
Since being passed over by Hendry last year, Sandberg managed his Triple-A Phillies affiliate club to the championship series of the International League. Before that, as skipper of the Triple-A Iowa Cubs, he was named the 2010 Pacific Coast League Manager of the Year.
The Hall of Fame second baseman has established himself as a firm leader as well as a players' coach, is certainly familiar with the Cubs' farm system and many of their young players, and hiring him would satisfy the masses, if, in fact, Epstein cares about such things.
Of course, we could well be jumping the gun here on two fronts. Sandberg might not be interested. Ditto for Epstein.
Keep in mind that when Epstein attempted to hire Sandberg last year, it was to manage Boston's Triple-A club in Pawtucket and not the Red Sox. The new Cubs boss may well want to go with someone who has big league managerial experience. He also may have been put off by Sandberg's rejection of his offer and subsequent move to join the Phillies organization.
At the same time, Sandberg may be counting on stepping into a winning situation and filling Charlie Manuel's role in the next couple of years with the Phillies.
But judging by how eager Sandberg was to manage at the big league level -- and particularly with the Cubs -- the last time the job was open, it is very hard to imagine him turning down such an opportunity now, especially as the organization embarks on a new era.
Last time Ryno was up for the job, there was talk of the timing of it all with the Cubs mired in transitional paralysis. And surely no one, not even the most optimistic of Cubs fans, expects the team to vie for the World Series next season.
But with Epstein and his lieutenants moving into Wrigley Field, there is no better time for this hire. For Sandberg. And for the Cubs.
Melissa Isaacson is a columnist for ESPNChicago.com.
GIVE QUADE ANOTHER CHANCE BEFORE GIVING RYNO THE REINS

By Gene Wojciechowski
ESPNChicago.com
Archive
The Chicago Cubs absolutely, positively, under no circumstances imaginable to man should replace Mike Quade with Ryne Sandberg*.
Oh, that asterisk? That means they absolutely, positively, blah, blah, blah shouldn't replace Quade with Sandberg right now. Later would be fine, but to jettison Quade in late October isn't the best use of Theo Epstein's considerable deck of management playing cards.
Quade is a baseball lifer, a good man who was put in an impossible situation last season. He had as much chance of leading the Cubs to a winning record as Carlos Zambrano has of being named franchise Employee of the Month.
It wasn't Quade's fault that 40 percent of the starting rotation was hurt at season's beginning, or that Zambrano had another China Syndrome meltdown, or that Aramis Ramirez glided through another season, or that, well, do I have to keep going here?
Anyway, the Cubs had a distinctive odor as they made their free fall in the National League Central standings. Quade was at the steering wheel of the Cubs' beater, but he should at least get a chance to start the 2012 season.
So keep Quade, but hire Sandberg as a coach. Is it the perfect situation? Not even close. But Quade is a big boy -- he knows how the business works. He knows the guy who hired him (former GM Jim Hendry) is gone. He knows Epstein didn't hire him. And he knows Sandberg is the people's choice.
That's the reality of the situation. If the Cubs overperform, Epstein looks like a genius, Quade holds on to his job and Sandberg is on a big league bench and back in the Cubs organization.
If the Cubs stink it up again, Epstein can say he gave it a shot with Quade, promote Sandberg and use the remainder of the 2012 season as a honeymoon period. Then they're both on the clock for 2013.
Gene Wojciechowski is a columnist for ESPNChicago.com.
You've heard our takes; now give us yours. DISCUSS
LISTEN LIVE!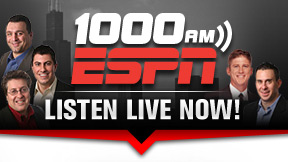 Want to sound off on today's Hot Button topic? Give us a call at 312.332.ESPN. Listen Live