CUBS SHOULD GO ALL IN ON REBUILD MODE AND DEAL GARZA

By Melissa Isaacson
ESPNChicago.com
Archive
If you're a Chicago Cubs fan, the only thing more fun the last few weeks than hearing how many teams were willing to trade top prospects for pitcher Matt Garza was hearing that Carlos Zambrano had finally been unloaded.
While it's never easy to say goodbye to a solid and respected member of the team, Theo Epstein's and Jed Hoyer's rebuilding project is in full swing, and it would be silly at this point not to go all in at this point and see what Garza can bring.
The signing of Paul Maholm adds depth to the Cubs' pitching staff and only adds to the speculation that Garza will be dealt. Of course it also adds to speculation that Epstein isn't in total rebuilding mode.
But it really is a veritable buffet for the solid right-hander -- who's arbitration-eligible the next two seasons -- though the Detroit Tigers appear to be the best bet in a gaggle that includes the New York Yankees, Boston Red Sox and Toronto Blue Jays. Rumors persist that Garza could be headed to the Detroit Tigers, possibly in a deal that would include 20-year-old righty prospect Jacob Turner.
At one time, the idea of parting with Garza seemed unthinkable but no longer. Reportedly, the Cubs are only interested in deals that would include four top prospects. And while quantity does not necessarily equate to quantity and prospects, even "top" prospects, are a crapshoot, I would certainly trust that if Epstein and Hoyer can find a team interested, at least two of the four will pan out. That's better than most teams do.
No doubt there will be Cubs fans disappointed if the team goes into spring training minus Garza, and prospects won't sell tickets. But wishing for the Cubs to stop the rebuild now is obviously too late.
After the exit of Aramis Ramirez, the trade of Sean Marshall and the swallowing of Carlos Zambrano's contract, the plan is clear.
Melissa Isaacson is a columnist for ESPNChicago.com.
You've heard our takes; now give us yours. DISCUSS
CUBS NEED GARZA TO SELL TICKETS

By Jon Greenberg
ESPNChicago.com
Archive
Matt Garza was brought to Chicago as Jim Hendry's last-ditch chance to save his job and rescue the Cubs from another sub-.500 season. Garza was very good for a pretty bad team last season, but all he did was cost the Cubs some much-need prospects.
I don't blame Hendry for making that trade, because Garza is the type of special pitcher you trade your prospects for, but only if you're in a situation where he could take a team to contending status. Hendry rolled the dice, and he lost the bet.
Now Hendry is gone and with the Cubs openly seceding from contention, it looks like Garza could be traded for prospects again. He's been on the block since Theo Epstein and Jed Hoyer took over, and one local report said it could happen soon.
I know JedStein's buzzphrase is "building a foundation for sustained success," and everyone is excited about the gold rush of prospects those two will surely find, but they also have to field a major league team this season, and therein lies my conflict with Garza.
Trading valued veterans for multiple prospects is the right move given the Cubs' situation, but the new management team and fan-turned-owner Tom Ricketts have to make sure they don't forget their duty to fans paying money -- a lot of money in many cases -- to watch actual baseball games at Wrigley Field. Fans don't pay $400 to take a family of four to Wrigley Field to hear dreams about prospects and eat bison dogs.
And Garza is the kind of pitcher you pay to watch. He's only 28. If the Cubs don't plan on contending during the prime of his career, do they plan on lowering ticket prices?
All the principals involved have openly discussed this challenge in their series of press conferences, so it's not like I'm lecturing them. But there has to be a line of demarcation between restocking the system and acting like a major league organization.
Garza could be a goner, and he could reap big returns. Just tell me who you'd pay to watch in 2012.
Jon Greenberg is a columnist for ESPNChicago.com.
LISTEN LIVE!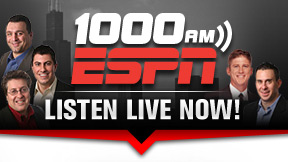 Want to sound off on today's Hot Button topic? Give us a call at 312.332.ESPN. Listen Live