IF DERRICK CAN PLAY, HE SHOULD

By Jon Greenberg
ESPNChicago.com
Archive
Derrick Rose's right toe is poised to become Jay Cutler's right thumb, but only in our nightmares.
I know Tom Thibodeau looks like a drill sergeant sometimes, but his philosophy is pretty simple: If you're banged up, you play through it. If you're injured, you sit.
So I'll go with Thibodeau here and say there's no reason to rest Rose, but if the medical staff says he needs more rest, then rest him. If the toe's fine, he has to play. This is a physical sport, and Rose is an elite athlete. He doesn't need to be encased in bubble wrap.
The Bulls did fine without Rose against Phoenix, but the next game, on the road against Cleveland, isn't as easy as some would think. If Rose can play, he should.
Rose's sprained right toe is something to monitor, but there is something to be said for playing through pain. If Rose can play without worsening his injury while doing the necessary treatment, he owes it to himself and his team to do so. No one is more important to the team, but no one is more important than the team.
Like most elite athletes, Rose finds inspiration through his own tribulations. I'll never forget watching him gut out an ulcer in a 99-90 win over Orlando last January. That win made the Bulls 32-14. It wasn't a crucial game, but it was one that Rose wanted.
Rose will never take himself out of games. Coupled with Thibodeau's intensity, this worries people about Rose's making himself prone to an injury. No Rose = no hope.
My take is, if Rose can take the pain without making the toe worse (he has special insoles and gets regular physical therapy), he should do it.
Jon Greenberg is a columnist for ESPNChicago.com.
DECISION IS NOT TOUGH: REST ROSE

By Scoop Jackson
ESPNChicago.com
Archive
Why is this even an issue? A point of concern or conversation? Why are Greenberg and I even disagreeing on this?
The Great Poohdini needs to chill. Sit. Rest. Recover. Then ... resurrect. I totally understand Derrick Rose's role in the continued success and lack of failure that has become the Chicago Bulls in the past season and a half, but to continue to play him when the organization knows he has an injury of some significance -- one that won't get worse if he plays but one it knows will not get better if he does -- is as ridiculous as Mick cutting Rocky's eyelid and our believing that he could (1) see (2) be allowed to continue to fight and (3) not bleed!
I have two words for anyone who thinks that playing on a yet-to-be-healed injury is a smart thing to do: Grant Hill.
Look, there is a need to secure home-court advantage; that's understood. But there's also a great (if not greater) need for the Bulls to find an identity without Rose and allow C.J. Watson to enhance his role on the team.
Here's the solution: The Bulls have a two-game lead in the Central and a 1½-game lead in the East. That's not a lot of wiggle room, but enough not to panic. Their next three games are against Cleveland, Charlotte and New Jersey. Let Rose rest during this stretch, because at least on paper, these are games that are winnable without Rose. Then have him return for the Jan. 25 game versus the Pacers.
Including Tuesday's DNP, that would give him a five-game, 10-day rest without losing major -- if any -- ground in the standings.
Let Rose spend the days off just shooting 3s, work on lightly stepping into his shot better and adding a little more arch. Turf toe? Sprained toe? Who cares. If the rumors are true that this injury is pre-existing and possibly degenerative, Rose needs to pretend that protective wear on his foot is a chastity boot.
Scoop Jackson is a columnist for ESPN.com and ESPNChicago.com.
You've heard our takes; now give us yours. DISCUSS
LISTEN LIVE!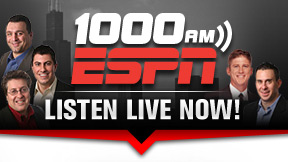 Want to sound off on today's Hot Button topic? Give us a call at 312.332.ESPN. Listen Live