ON A BETTER MARLINS TEAM, Z WILL OUT-WIN GARZA

By Jon Greenberg
ESPNChicago.com
Archive
We've heard about the new Carlos Zambrano before. Remember when he quoted "Rocky IV"?
"Have you seen the movie 'Rocky IV'?" Zambrano asked last June. "He was fighting in Russia, I think. He said it was never too late for people to change."
Nice thought, but less than two months later, he left a game in Atlanta and was suspended for the rest of the season. So much for Rocky. So let's take any supposed reinvention with a barrel of salt.
But the word is Zambrano is fired up and throwing well in Marlins camp and with his friend Ozzie Guillen in charge, I have a feeling the Big Z is going to put together a full season. Guillen knows how to deal with Zambrano, and if the Marlins win, some of Zambrano's eccentricities will be forgotten.
Zambrano, and no one else, is responsible for how his Cubs career cratered, but he was also caught in a franchise in flux. How many Cubs have put up good numbers the past few years?
If you can assume Zambrano stays on the straight and narrow (Guillen has had nutty players before, but they've always seemed to fall in line), then it's fair to assume he will have more wins than any member of Matt Garza, Ryan Dempster & Co. (Note: FanGraphs and Bill James disagree with me. But what do they know?)
Why? Because wins are kind of a joke statistic to the statistics crowd nowadays, more of a testament to how good a team is, than a true test of a pitcher's value. I don't think you'll find too many people predicting the Cubs will have more wins than the Marlins.
So I'm penciling Zambrano in for 14 wins, one more than Garza.
Jon Greenberg is a columnist for ESPNChicago.com.
You've heard our takes; now give us yours. DISCUSS
COUNT ON Z, BUT NOT TO GET MORE WINS THAN ANY CUB

By Gene Wojciechowski
ESPN.com
Archive
Is Carlos Zambrano dependable? Absolutely.
I'm depending on him to have at least one, possibly two signature meltdowns this season. I'm depending on him to alienate his Miami Marlins teammates. I'm depending on him to get into a well-publicized dugout shouting match with manager Ozzie Guillen.
Theo Epstein has "The Cubs Way."' Zambrano has "The Big Z Way.'' And Big Z is a big zero when it comes to delivering the goods anymore.
I didn't trust him when he was with the Cubs, so why would I trust him with the Marlins? Oh, he'll say all the right things and pledge allegiance to Ozzie and his new employer. And he might even mean it … for a while.
But then something will happen. He'll stare down Hanley Ramirez after a botched grounder at third. He'll pop off to Guillen. He'll throw a tantrum.
Zambrano vs. the Cubs' rotation? Sure, I'll take my chances with that bet. Matt Garza has better stuff than Z. Ryan Dempster puts up the innings. Maybe even Paul Maholm surprises everybody.
Meanwhile, Zambrano turns 31 on June 1. He has a lot of mileage on that right arm and look at his numbers during the past four years: 2008 -- 14 wins, 188.2 innings; 2009 -- 9 wins, 169.1 innings; 2010 -- 11 wins, 129.2 innings; 2011 -- 9 wins, 145.2 innings.
That's an average of about 11 wins per season. His innings are down, his injuries and suspensions are up.
Yes, I know -- the Marlins are a better team than the Cubs. But they also play in a tougher division than the Cubs.
I can see 14 wins out of Garza. I don't see the same out of Zambrano. Z is too high maintenance to survive a season without reverting to his prima donna ways.
Gene Wojciechowski is the senior national columnist for ESPN.com. You can contact him at gene.wojciechowski@espn.com. And don't forget to follow him on Twitter @GenoEspn.
LISTEN LIVE!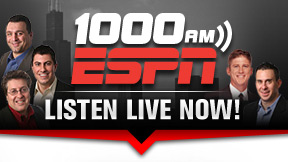 Want to sound off on today's Hot Button topic? Give us a call at 312.332.ESPN. Listen Live