CUBS CAN'T PASS ON PUJOLS

By Melissa Isaacson
ESPNChicago.com
Archive
Are you kidding?
The very thought of Albert Pujols in a Chicago Cubs uniform is delicious enough to endorse under any circumstances. And if you're a Cubs fan, the very image of the Cardinals faithful digesting this might be enough to wipe out two or three generations of heartache at least.
After the negotiating deadline came and went Wednesday without an agreement between the three-time MVP and the Cardinals, other scenarios, however unlikely they might be, began to multiply in earnest.
In the it's-not-my-money school of reasoning, the question of whether the Ricketts family should go after Pujols, even with a price tag of 10 years at $300 million, makes perfect sense.
The Cubs are in no worse position than any other team to shell out that kind of dough. And they will free up about $40 million when the contracts of Kosuke Fukudome, Carlos Silva, Aramis Ramirez and Carlos Pena come off the books after this season.
Sure, Cubs ownership is hundreds of millions of dollars in debt. And yes, it will cost at least that much to complete the promised and much-needed renovation of Wrigley Field. And yes, they still owe Alfonso Soriano more than Tiger Woods' mortgage. But you don't pass up a player of iconic status like Pujols unless you absolutely, positively cannot get it done.
As for Pujols' age -- he will be 32 at the start of 2012 -- I take that risk if I'm the Cubs, even with their track record of taking risks.
This is ALBERT PUJOLS. In WRIGLEY FIELD. Do the Cubs really need to be reminded what Pujols has done to them there? He has shown absolutely no signs of slowing down, a career .331 hitter who averages 41 home runs and 123 runs batted in; a nine-time All-Star and two-time Gold Glover.
All this and he's a good guy.
For the Ricketts, this would be the tsunami of big splashes. And I don't mean a disaster.
Melissa Isaacson is a columnist for ESPNChicago.com.
You've heard our takes; now give us yours. DISCUSS
COST IS TOO MUCH FOR CUBS

By Jon Greenberg
ESPNChicago.com
Archive
I hope the Cubs have a plan for the future. A short-term plan, a long-term plan. Any kind of plan.
Let me rephrase that. I'm sure they have some kind of plan, but I hope it's a sensible one.
They had a plan before the 2007 and 2008 seasons, spending an obscene amount of money to try and win a World Series, and it almost worked. Unfortunately, as the boxing saying goes, everyone has a plan until they get hit in the mouth.
Theoretically, Albert Pujols could help the North Siders get to a World Series, but at what cost? And I mean that literally. How much would it cost to sign Pujols? Upwards of $200 million, maybe closer to $300 million.
This is a team that had to spread out a $10 million contract over three years this offseason to sign Carlos Pena. The ivy might be green in the summer, but outdated Wrigley is not a money tree. Not yet anyway.
Obviously, Pujols is a fantastic player, probably the best hitter of his generation. If the St. Louis Cardinals are dumb enough to let their franchise player walk, it would be a fantastic piece of Schadenfreude for him to land at Wrigley. But don't count on it, and I'm not sure it's a great idea. How old is Pujols? How long will he play at a $25-$30 million level? Big money changes people, it changes expectations. Pujols is beloved in St. Louis. If he comes to Chicago and the Cubs don't win, he'll be tolerated.
The Ricketts family paid $845 million or so for the Cubs, and most of it was financed. After a season in which there was a slight drop in attendance and a modest increase in apathy, they tried to unveil a tax-based financing plan for stadium improvements that was pilloried and shelved. Maybe the city will chip in for Pujols. Unless that happens, don't count on Ricketts forking over $300 million to Pujols.
For too long, the Cubs have been piecemealed together from free agents, young-for-old trades and the occasional homegrown prospect-turned-suspect. The best thing for the Cubs to do is supplement young talent with veteran pieces, and those pieces don't have to be the best guy on the market.
The Cubs' bloated payroll dips well below nine digits next year, and the team will have room to add more pitching, maybe new corner infielders. Cubs fans are famous for hope. But I wouldn't hold my breath for Pujols. Pray for depth instead.
Jon Greenberg is a columnist for ESPNChicago.com.
LISTEN LIVE!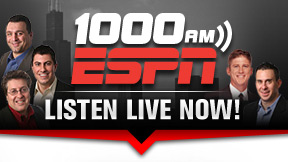 Want to sound off on today's Hot Button topic? Give us a call at 312.332.ESPN. Listen Live