WHERE ARE THE BULLS WITHOUT ROSE?

By Nick Friedell
ESPNChicago.com
Bulls blog
LeBron James has Dwyane Wade and Chris Bosh. Derrick Rose has ...
Well, he was supposed to have Carlos Boozer and Joakim Noah, but Boozer missed the first month of the season because of a broken hand, and Noah missed the past two because of a torn ligament in his thumb. So in many ways, Rose has led the Bulls to 41 wins and a place near the top almost all by himself on some nights.
Sure, Luol Deng has been great and played solid all season, but Deng is not Wade. Heck, Deng isn't even Bosh.
Speaking of Bosh, it was him (and teammate Juwan Howard) who said last week that Rose was the most valuable player in the league ahead of James. Like so many fans, Heat players can see how much pressure Rose is under every night to lead his team to victory.
If Rose has an off night, the Bulls don't have much of a chance to win. If James has an off night, Miami still has Wade and Bosh to fall back on. Rose has had more pressure on his shoulders throughout the course of the season than any other player in the league, including James.
Spare me the Cleveland example, too. People will argue that James is the most valuable because of how awful the Cavs are this season.
Who cares?
James doesn't play for the Cavs anymore, and it's obvious that Cleveland didn't do nearly enough to fill the void his departure created. James plays for the Heat now, and if you took him off the Heat they would still be good. If you took Rose off the Bulls, they probably would not be.
James has had another unbelievable season and may well be the most talented player in the league, but he's not the single most valuable player this year. That's Rose.
Nick Friedell covers the Bulls for ESPNChicago.com and ESPN 1000.
You've heard our takes; now give us yours. DISCUSS
'LeBron is the MVP. Every year.'

By Tom Haberstroh
ESPN.com Heat Index
Archive
Those battling for Derrick Rose's candidacy as the MVP contend that the Bulls' record speaks for itself -- that the point guard has carried the Bulls with Carlos Boozer and Joakim Noah out for extended periods this season.
But I don't buy it. No matter what Juwan Howard says.
This isn't a knock on Rose, but an endorsement for a deeper analysis. Those who stand behind the "carry" argument are ignoring the single biggest reason the Bulls are where they are: their defense -- the best one in the league.
Of course, it's unfair to suggest Rose hasn't played a role in the team's defensive turnaround. But it's equally unreasonable to assign much credit to a player who defends primarily 20 feet away from the basket.
Now, Rose is having a remarkable season, and at such a young age, he's undoubtedly one of the brightest stars in the game. Rose has vaulted himself into the game's elite. He's added a 3-point game to his arsenal, which has helped curb his tumbling field goal percentage on 2-point shots.
And then there's LeBron James' résumé. The two-time MVP has done nothing this season to suggest he isn't the same unstoppable force who earned the award each of the past two seasons. Despite having to share the rock with two other ball-hungry stars. In the box score, he has no parallel.
Defensively, he's asked to play five positions for the Heat, locking down point guards as well as power forwards on a nightly basis.
Whether you speak in anecdotes or analytics, James is the best player in the game today. And judging from the Heat's near mediocrity without him, he's demonstrated his incredible value in that respect as well. As one league GM plainly said to me this season, "LeBron is the MVP. Every year."
Tom Haberstroh is a writer for ESPN.com's Heat Index. This is an excerpt of Haberstroh's Feb. 24 column, which can be read here in its entirety.
LISTEN LIVE!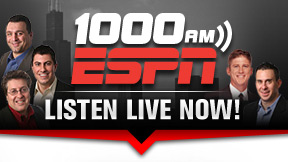 Want to sound off on today's Hot Button topic? Give us a call at 312.332.ESPN. Listen Live