BRIAN URLACHER ISN'T AMONG TOP 10, BUT NO. 12 ISN'T BAD

By Jon Greenberg
ESPNChicago.com
Archive
I'm kind of surprised at the level of local attention given to a meaningless list created by a linebacker, Dhani Jones, who is best known for being a bow tie-wearing world traveler.
But I'm equally surprised we're shocked that someone wouldn't have the Chicago Bears' Brian Urlacher on his top-10 list of linebackers in the NFL, as if they're saying Mike Ditka isn't one of the best-groomed NFL coaches of all time. Now I respect Urlacher's history, and I think his expertise at playing inside linebacker, especially in Lovie Smith's scheme, more than augments any athleticism he's lost over the years.
But is he still one of the 10 best linebackers in the NFL? I can think of 10 better, including teammate Lance Briggs, in terms of athleticism mixed with intelligence. But I can't think of 20, especially after his strong play last season for one of the league's premier defenses.
It's tough to have this argument without agreeing that Urlacher's job is radically different than that of, say, James Harrison or Clay Matthews, two players you'd easily put ahead of him. But they play on the edges in 3-4 defenses. But they're all listed as linebacker, so I guess you lump them together.
I'd surmise Urlacher is still among the top five or six inside linebackers.
Inside backers such as Patrick Willis, Jerod Mayo, Jonathan Vilma and Lawrence Timmons are probably better, all-around, than No. 54. Less-heralded linebackers such as Daryl Smith and David Harris likely rank higher than Urlacher, too. Though, to be honest, it's all speculative.
Urlacher still ranked among the leaders last year in "defeats," a Football Outsiders stat that illustrates how many plays a defender made that caused a turnover, loss of yardage, loss of downs or forced a punt. He had 27 defeats (14 run, 13 pass), which put him in a tie for 11th among linebackers with London Fletcher. Daryl Smith, playing on a bad Jacksonville defense, had 35. Briggs, interestingly enough, had 28, which put him at No. 10.
Football Outsider's Aaron Schatz told me via e-mail that Urlacher is probably still a top-15 linebacker coming off last year's performance, just outside Jones' imaginary list. (He laughed at Jones putting himself on the list.) Here's the thing, though: Urlacher is only going to slip down these rankings in the coming years. While he looked fresher after missing the 2009 season, Urlacher has been in the league for more than a decade and every year there are younger, faster, more explosive linebackers out there. His strength is his blend of experience and savvy, and the remaining freakish athleticism that made him such a fan favorite here.
But there's nothing wrong with being No. 12.
BRIAN URLACHER'S FANTASTIC 2010 PROVED HE'S STILL A TOP-10 LINEBACKER

By Jeff Dickerson
ESPNChicago.com
Here's the easiest way to sum up Brian Urlacher's importance at the linebacker position for the Chicago Bears: When he doesn't play, they lose. The Bears went 0-7 without Urlacher running the defense in 2004, and 7-9 in 2009 when a wrist injury sidelined the middle linebacker for roughly the entire season. The following seasons after those injuries, the Bears won the division (2005, '10), due in large part to the play of a healthy Urlacher.
Notice a trend?
Five seasons are in the books since Urlacher won NFL Defensive Player of the Year honors (2005), but the veteran was back in top form in 2010 when the Bears advanced to the NFC Championship Game. Not only did Urlacher lead the team in tackles (146), tackles for a loss (11), passes broken up (13) and fumbles recovered (3), he was also voted to the Pro Bowl for the first time since 2006.
I admit, Pro Bowl selections are sometimes deceiving because players occasionally earn the honor based on reputation, not performance. But remember, Urlacher was left off the Pro Bowl roster the previous three seasons, which means he doesn't fall into that category of making the Pro Bowl simply because he's named Brian Urlacher. If that were the case, Urlacher would've made the Pro Bowl in 2007 and 2008. No, NFL players voted for Urlacher because they still consider him to be one of the best in the game.
Even at 33 years old, Urlacher is coming off a Pro Bowl season that ended one win away from advancing to the Super Bowl. He was arguably the most important player on the field for one of the best defenses in the NFL.
Tell me again why Urlacher isn't considered a top-10 linebacker in the league?
You've heard our takes; now give us yours. DISCUSS
LISTEN LIVE!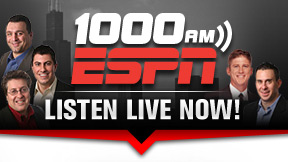 Want to sound off on today's Hot Button topic? Give us a call at 312.332.ESPN. Listen Live