Maddux, Glavine, Thomas to HOF
Updated:
January 9, 2014, 2:11 PM ET
ESPN.com news services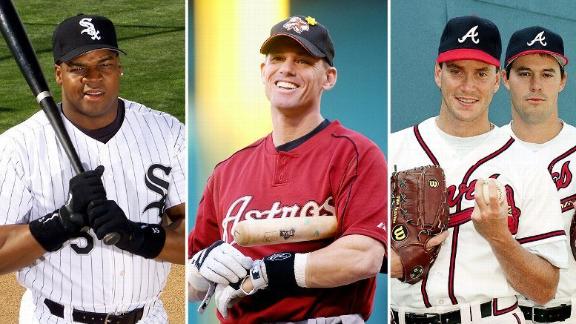 Buster Blog: HOF Voting Changes
Buster Olney discusses the Hall of Fame voting changes he would like to see.
Buster Blog: HOF Voting Changes
NEW YORK -- Greg Maddux, Tom Glavine and Frank Thomas were elected to baseball's Hall of Fame on Wednesday while Craig Biggio fell two votes short and tainted stars of the steroid era remained far behind.
Maddux was picked on 555 of 571 ballots by senior members of the Baseball Writers' Association of America. His 97.2 percentage was the eighth highest in the history of voting.
More on Hall of Fame vote

Three players -- Greg Maddux, Tom Glavine and Frank Thomas -- were elected Wednesday to the Hall of Fame, but the voters still have no idea how to resolve the fate of many of the greatest players of all time, writes Jayson Stark. Story
---

On a day to celebrate for Greg Maddux, Tom Glavine and Frank Thomas, Craig Biggio and Jack Morris endured a different fate, writes David Schoenfield. Reaction
• Le Batard gives Hall vote to site • Radio: Kurkjian

| La Russa


• Vote: Did HOF get it right?
Glavine, Maddux's longtime teammate in the Atlanta rotation, appeared on 525 ballots and received 91.9 percent. Thomas, the first Hall of Famer who spent the majority of his career as a designated hitter, received 483 votes.
The trio will be inducted in Cooperstown on July 27 along with managers Bobby Cox, Joe Torre and Tony La Russa, elected last month by the expansion-era committee. Maddux and Glavine played under Cox for most of their careers.
"It's exciting for me to go in with my teammate," Maddux said.
Writers had not elected three players in one vote since Nolan Ryan, George Brett and Robin Yount in 1999.
Biggio received 427 votes and 74.8 percent (75 percent is required for enshrinement), matching Nellie Fox in 1985 and Pie Traynor in 1947 for the smallest margin to just miss. Biggio appeared on 388 ballots in his initial appearance last year and appears to be on track to gain election next year.
"Obviously, I'm disappointed to come that close," Biggio said in a statement. "I feel for my family, the organization and the fans. Hopefully, next year."
Mike Piazza was next at 62.2 percent followed by Jack Morris, who was 78 votes short at 61.5 percent in his 15th and final appearance on the writers' ballot. His next chance at Cooperstown could come at the expansion era committee meeting in December 2016.
Roger Clemens (37.6 percent in 2013 to 35.4 percent in 2014), Barry Bonds (36.2 to 34.7), Mark McGwire (16.9 to 11.0), Sammy Sosa (12.5 to 7.2) and Rafael Palmeiro (8.8 to 4.4), who all compiled big numbers but were tainted by the steroid era, each saw his vote percentage drop. Palmeiro will be removed from future writers' ballots after falling to 25 votes and 4.4 percent -- below the 5 percent threshold necessary to remain eligible for next year's vote.
"I wasn't expecting a miracle, but I also wasn't really expecting to be left off the ballot all together," Palmeiro told the Fort Worth Star-Telegram.
"My disappointment started when I tested positive for whatever I tested positive for. I knew it was going to ruin my career, it was going to stain it, so my life changed that day and it's never been the same. I was very proud of my career and what I gave to the game and the way I prepared myself for each game and the respect that I had for baseball itself."
Thomas said he accepts the view of many Hall of Famers that players whose accomplishments are muddied by accusations of steroid use don't belong in the Hall.
"I've got to take the right stance, too. No, they shouldn't get in," he said. "There shouldn't be cheating allowed to get into the Hall of Fame.
"As for what they did, I don't think any of us will ever really know. But I can just tell you, what I did was real and that's why I've got this smile on my face right now because the writers, they definitely got it right."
2014 Hall of Fame voting

Greg Maddux, Tom Glavine and Frank Thomas were elected to the Hall of Fame by baseball writers, reaching the needed 75 percent of the vote to gain entry to Cooperstown. Here's a look at the voting.
Player
Votes
Pct.
Greg Maddux
555
97.2
Tom Glavine
525
91.9
Frank Thomas
478
83.7
Craig Biggio
427
74.8
Mike Piazza
355
62.2
Jack Morris*
351
61.5
Jeff Bagwell*
310
54.3
Tim Raines*
263
46.1
Roger Clemens*
202
35.4
Barry Bonds*
198
34.7
Lee Smith*
171
29.9
Curt Schilling*
167
29.2
Edgar Martinez*
144
25.2
Alan Trammell*
119
20.8
Mike Mussina
116
20.3
Jeff Kent
87
15.2
Fred McGriff*
67
11.7
Mark McGwire*
63
11.0
Larry Walker*
58
10.2
Don Mattingly*
47
8.2
Sammy Sosa*
41
7.2
Rafael Palmeiro*
25
4.4
* = lost votes from previous year Others receiving votes: Moises Alou, 6; Hideo Nomo, 6; Luis Gonzalez, 5; Eric Gagne, 2; J.T. Snow, 2; Armando Benitez, 1; Jacque Jones, 1; Kenny Rogers, 1.
Former Astros standout Jeff Bagwell (59.6 last year, 54.3 this year) and longtime Montreal Expo Tim Raines (52.2 to 46.1) were among a group of 15 candidates that saw their vote percentages fall from 2013. Pitcher Lee Smith suffered the biggest drop-off, receiving 171 votes (29.9) after drawing 272 votes (47.8) in 2013.
Larry Walker rang in at 10.2 percent.
"My goal of staying on the ballot for all 15 years got one year closer today!!" he tweeted with the hashtag "content."
Eighth on the wins list with a 355-227 record and 3.16 ERA over 23 seasons, Maddux won four consecutive Cy Young Awards from 1992 to 1995 and a record 18 Gold Gloves with the Chicago Cubs, Atlanta, the Los Angeles Dodgers and San Diego. An eight-time All-Star, he won at least 13 games in 20 straight seasons.
Among pitchers with 3,000 innings whose careers began in 1921 or later -- after the dead ball era -- Maddux's 1.80 walks per nine innings is second only to Robin Roberts' 1.73, according to STATS.
Glavine, a 10-time All-Star and two-time Cy Young winner, was 305-203 over 22 seasons.
Add in Cox, and the induction will be dominated by Braves.
"It's fitting, given the influence those two guys had on my career," Glavine said. "The thing that would have disappointed me the most had it not happened would have been a lost opportunity to go in with Bobby and Greg."
A two-time American League MVP, Thomas hit .301 with 521 homers and 1,704 RBIs in 19 seasons with the Chicago White Sox, Toronto and Oakland.
"I did it between the lines. I gave 100 percent every day," Thomas said. "I'm so honored and blessed. I'm ecstatic. To be chosen on the first ballot is an honor. For me, (the voters) made the right decision because I know what I put in this game day in and day out."
Writers who have been members of the BBWAA for 10 consecutive years at any point were eligible to consider the 36-player ballot.
Next year's vote could be even more crowded when Randy Johnson, Pedro Martinez, John Smoltz, Carlos Delgado and Gary Sheffield become eligible, five years after their retirements. The BBWAA last month formed a committee to study whether the organization should ask the Hall to change the limit of 10 players per ballot.
Information from The Associated Press was used in this report.
MLB ON ESPN.COM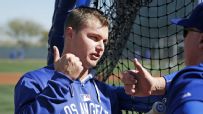 Is rookie Joc Pederson ready to be the Dodgers' center fielder?