Cubs not surprised by criticism
Updated:
January 15, 2014, 3:53 PM ET
By
Jesse Rogers
| ESPNChicago.com
More From ESPN.com

The Cubs picked the wrong time to introduce mascot Clark the Cub to their impatient fan base, writes Jon Greenberg. Story »
• Podcast: Cubs VP of comm.


• SportsNation: Do you like Clark?
• Cubs blog »
CHICAGO -- The Cubs weren't surprised by the backlash from the unveiling of their first official mascot of the modern era, but a team spokesman said some critics went too far with reactions on social media.
"I'm disappointed at some of the unfortunate images that went from negative to despicable," Julian Green, vice president of communications and community affairs, said Tuesday. "There are some folks that had strong reactions to the mascot, but at the same time, there are folks that see what we're trying to do. It's strictly for kids and family entertainment."
The Cubs unveiled "Clark" -- a Cub bear -- on Monday, and the reaction was swift as the mascot was depicted in unflattering terms on several social media outlets.
"It is a boisterous platform," Green said of Twitter and other outlets. "We don't think it's a bellwether for things we're trying to accomplish nor should it be for any company. When you look at the chatter on social media, it's a split depending on who you talk to and what media platform you're looking at."
[+] Enlarge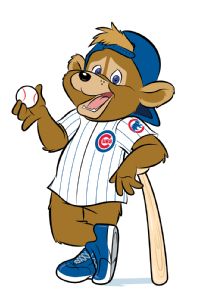 Courtesy of Chicago CubsClark is the first official Cubs mascot in their modern history.
Green acknowledged that Clark's target audience isn't exactly the age group that would be on Twitter or Facebook.
"Some of the strong reactions were predictable," he said. "We've been around for 100 years, and we plan on being around another 100 years. As we look to develop the next generation of fans, the mascot will help that. Plus, there were a lot of fans today excited to share the experience with Clark the mascot."
Green repeated Monday's notion that Clark will have minimal exposure during games, acknowledging some "engagement" but not anything that can be constituted as disruptive to the viewing experience.
Mostly, Green said the Cubs are glad to have a mascot for young fans like the ones who met with him Monday night at Advocate Illinois Masonic's Pediatric Development Center.
"Unfortunately, there are those that decided to respond in a way that had nothing to do with the mascot," he said. "When you look at the pictures and videos showing the kids' reactions [Monday] night, it was proof positive that the visions we have for this mascot will be achieved."
Chicago Cubs beat reporter
Jesse joined ESPN Chicago in September 2009 and covers the Chicago Cubs for ESPNChicago.com and ESPN Radio 1000.