Sammy Sosa to fix things with Cubs
Updated:
April 24, 2014, 10:07 PM ET
By
Enrique Rojas
| ESPNDeportes.com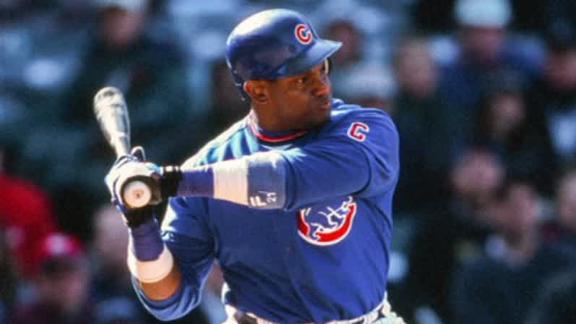 Cubs: Sosa Must Make Amends
Sammy Sosa was not invited to participate in Wednesday's 100th anniversary of Wrigley Field celebration, and a team official says Sosa has some work to do before being welcomed back.
Cubs: Sosa Must Make Amends
The Chicago Cubs feel like Sammy Sosa owes them an apology, and the former slugger told ESPNDeportes.com on Thursday that he is willing to sit down with the club to make amends.
"I think there is something that has to be resolved," Sosa told ESPN Deportes. "If there is something to clarify, we will sit down and clear it up. Time has given me the maturity to reflect upon many things, including knowing that one side doesn't have to be right all the time."
100 YEARS OF WRIGLEY FIELD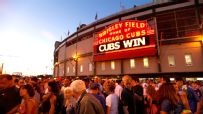 Look back at the 100 most memorable moments as the Friendly Confines celebrates a century. Top 100 »
• Rank your top 20 moments


• Greenberg: The people's park »
• Caple: Rating Wrigley Field »
• Greatest Cubs

ESPN Chicago »
Sosa was not invited to participate in Wednesday's festivities commemorating the 100th anniversary of Wrigley Field, where he hit 293 of his 609 home runs in 13 seasons, from 1992 to 2004, and posted three seasons of 60 or more home runs. Included among those three seasons is 1998 -- when both Sosa and Mark McGwire eclipsed Roger Maris' then-record of 61 home runs in a season.
"I should have been there; I would have liked to have been there," Sosa said about the celebration. "The Cubs know where to find me, and I hope to have the chance to clear up any misunderstanding."
Cubs spokesman Julian Green said Wednesday that Sosa had some work to do before being welcomed back by the organization.
"There are some things Sammy needs to look at and consider prior to having an engagement with the team," Green said.
Sources indicate one thing Sosa has to do is make amends with some former teammates for his actions at the end of his Cubs career.
Sosa left the team on bad terms after sitting out the final game of the 2004 season and leaving the stadium before the game was over. He was traded to the Baltimore Orioles that winter.
A New York Times story reported Sosa was on the 2003 list of players who flunked tests for performance-enhancing drugs.
"It has been 10 years since I played my last game with the Cubs. That's a lot of time to not have had a conversation about this," said Sosa, who hit .273 with 1,667 RBIs over an 18-year major league career that started with the Texas Rangers.
Information from ESPN Chicago's Jesse Rogers was used in this report.
ESPNdeportes
Enrique Rojas is a reporter and columnist for ESPNdeportes.com and ESPN.com.
MLB ON ESPN.COM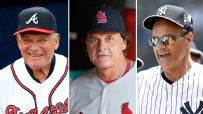 This year's managerial inductees arrived at the Hall of Fame from different directions.