Marlins introduce Ozzie Guillen
Updated:
September 28, 2011, 8:06 PM ET
ESPN.com news services
MIAMI -- Ozzie Guillen was introduced as the Florida Marlins' manager at a news conference before their final game of the 2011 season and last ever at Sun Life Stadum.
[+] Enlarge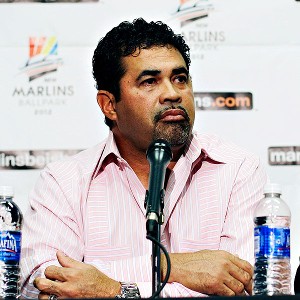 AP Photo/J Pat CarterOzzie Guillen said he hopes to bring energy, flavor, enthusiasm to the Marlins and -- most important -- a winning team to the city of Miami.
"Welcome to a new era in Marlins baseball," owner Jeffrey Loria said, referring to his new manager and his new stadium that will be ready for the 2012 season.
"I've known Ozzie for 20 years and I could not be happier that he's going to lead us into the new stadium."
"We're very excited," Guillen said at a stadium news conference Wednesday. "It's a big, big step in my career, a new chapter. Hopefully I can bring energy, flavor and enthusiasm, but the most important thing is a winning team."
A source told ESPNChicago.com's Bruce Levine that Guillen will receive a four-year deal with the Marlins.
The Marlins are staggering to a last-place finish in the NL East. With the team moving to a new ballpark and making a push to become a contender, Loria wanted an experienced manager.
"I'm very excited about the new park," Guillen said. "It's pretty nice -- wow. I hope the fans will be excited about the new era for the Marlins. They should be excited. I want the fans to go there and say, 'This is a beautiful ballpark, but let's watch the guys play.' "
Manager Jack McKeon said Monday he planned to retire at the end of the season. Hours later, Guillen announced he was leaving the Chicago White Sox after eight seasons, including a run to the World Series title in 2005.
More Ozzie Guillen Coverage

ESPNChicago.com
With Ozzie gone, one thing is certain: The White Sox will be much less interesting, writes Gene Wojciechowski. Story
• Gallery: Guillen retrospective


• White Sox Blog | ESPNChicago.com
---

ESPN.com
Between the headaches, the losing and the reluctance to change, it was time for Ozzie to go, writes David Schoenfield. Blog

Few think the partnership of Ozzie and Marlins owner Jeffrey Loria to work out, but Buster Olney thinks there's a chance they could end up getting along fine -- at least for a little while. Story

• Bowden: Not worth the headache

Guillen had a year left on his contract. The Marlins will send two minor leaguers, including right-handed reliever Jhan Marinez, to Chicago, the source told Levine. MLB.com reported that infielder Osvaldo Martinez is the other player.
The outspoken, sometimes outrageous Guillen is the Marlins' fourth manager since early 2010, and his relationship with management could create some off-the-field excitement. Strong-willed Joe Girardi lasted only one season with Florida in 2006, clashed with Loria and others in the organization, and was fired shortly before being chosen NL manager of the year.
The Marlins are leaving the stadium where they've played since their first game in 1993, and will move into a new ballpark next spring as the Miami Marlins. The franchise planned a big ceremony in conjunction with the final game of the season Wednesday against the Washington Nationals.
"All the pieces are coming together," slugger Mike Stanton said. "We got the stadium, and we got the manager."
Several Marlins players said the tell-it-like-it-is skipper would be a good fit for the team.
"That's probably something we need around here," Stanton said. "Let us know, and don't beat around the bush. It's better than doing it behind your back. He's going to come right to you."
Left fielder and Twitter sensation Logan Morrison was impressed to hear Guillen blogs along with tweeting, and does so in two languages.
"Now I need a blog, probably two," Morrison said. "And I've got to learn a foreign language in the offseason. I'll have to follow him. If I don't, I might get fined."
Information from ESPNChicago.com's Bruce Levine, ESPN.com's Jayson Stark and The Associated Press was used in this report.