White Sox react to Ozzie Guillen ban
Updated:
April 11, 2012, 8:12 AM ET
Associated Press
CLEVELAND -- As Ozzie Guillen tried to explain his way out of another mess he created with his mouth, Chicago's new manager felt compassion for his predecessor.
Robin Ventura watched and wished the best for Guillen.
More from ESPN.com

Ozzie Guillen was foolishly impolitical and either dangerously unaware of or insufficiently sensitive to the sensibilities of the community. Now, we will find out what Guillen, the Marlins, the public and media have learned from this public collision, writes Howard Bryant. Story
---

Apologies and in-the-flesh explanations aside, the oft-outspoken Ozzie Guillen faces a tough road for him to recover from his favorable comments about Fidel Castro, writes Jayson Stark. Story
---

Israel Gutierrez came home to South Florida on Monday afternoon and woke up to the import of Ozzie Guillen's insensitive comments about Fidel Castro. Story
---

Ozzie Guillen's inappropriate comments about Fidel Castro led to a Marlins suspension. But Jim Bowden says Miami didn't go far enough. Blog
• OTL: Campanis uproar revisited
---

Facing a public relations disaster, the Marlins made the right decision in suspending Guillen for five games, writes David Schoenfield. Blog
"It's a tough day for him," Ventura said Tuesday, hours after Guillen apologized in South Florida for comments lauding Cuban dictator Fidel Castro, remarks that led some to call for his firing. "He's a friend, so it was not easy to watch. He looked sincere and meant it."
Ventura was Guillen's teammate for eight seasons in Chicago. This year, he replaced the outspoken manager, who led the White Sox to a World Series title in 2005 before leaving them after eight stormy seasons during which Guillen often made headlines with outrageous remarks.
Most of Chicago's players declined to talk about Guillen's situation.
One willing to talk was infielder Gordon Beckham, who said most White Sox players believe Guillen's true feelings did not come out in the Time magazine article in which he said he loves Castro and respects the retired Cuban leader for staying in power so long.
"You feel for Ozzie," said Beckham, who played three seasons for Guillen. "I think all of the guys in this clubhouse knew what he meant when he said it. It was like, this guy (Castro) has had people trying to get him, take a shot at him, and he's lasted 60 years. Sometimes Ozzie says more than he should."
Guillen's comments were particularly personal for White Sox shortstop Alexei Ramirez, a Cuban. Still, he's ready to forgive his former manager.
"Apologizing is definitely a big first step," said Ramirez, who played for Cuba in the Athens Olympics. "Everyone has their opinion. But I also feel people should be forgiven. So if he's going to apologize, I feel that hopefully he'll be accepted."
The 30-year-old Ramirez left Cuba in 2007 and joined the White Sox in 2008.
"I would just say whatever his thoughts or comments are, those are Ozzie's comments," he said. "That's more on him. It's one of those (situations) that there are some people who like Castro, and there are some people who don't. You're in Miami, it's definitely a different thought frame. But that's his opinion, and it's not the same opinion I have."
Ventura, who was a surprise pick to take over in Chicago because he had never managed at any level, hopes to learn from Guillen's faux pas.
"I'm going to stick to just talking about baseball," Ventura said before the White Sox and Indians were postponed because of rain and cold weather.

Copyright 2012 by The Associated Press
OZZIE GUILLEN SUSPENDED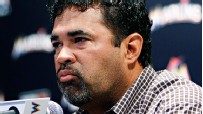 NEWS
ANALYSIS
VIDEO
AUDIO
SPORTSNATION