Bulls' Derrick Rose 'doing fine'
Updated:
December 28, 2013, 1:44 PM ET
By
Nick Friedell
| ESPNChicago.com
DEERFIELD, Ill. -- Chicago Bulls star point guard Derrick Rose is "doing fine," according to head coach Tom Thibodeau, but is still not ready to sit on the bench as he continues his rehab from right knee surgery.
"He's doing fine," Thibodeau said after Saturday morning's shootaround. "Doing fine -- coming along."
[+] Enlarge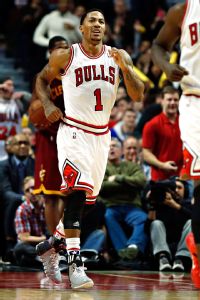 Scott Strazzante/Chicago Tribune/MCT/Getty ImagesDerrick Rose has been sidelined since undergoing surgery on his injured right knee last month.
Rose, who tore the medial meniscus in his right knee on Nov. 22, has been seen around the Bulls' practice facility intermittently as he receives treatment.
Thibodeau said Rose is closer to sitting on the bench with the rest of his teammates, but not at that point yet.
"Yeah, probably in the next few weeks," Thibodeau said. "He's still ... he's on a crutch and he's got his brace, so I don't want him sitting there when he's like that."
Rose was ruled out for the season after his surgery but left the door open for a possible playoff return during his first remarks to reporters a few weeks ago. Despite his comments, few within the organization expect that to happen, especially given how much the Bulls have struggled to win games without him.
Rose hasn't been able to do much rehab work, but Thibodeau has been pleased at his recent progress.
"He can lift with his upper body and do all his rehab stuff," Thibodeau said. "He's starting to move around a little bit more now. He can go in the pool and things like that."
As for the rest of the injured Bulls, Joakim Noah (hip) went through all of shootaround and is expected to play Saturday night against the Dallas Mavericks. Luol Deng (Achilles) said he was still a little sore and was "most likely" out.
"It's better," Deng said. "It's better. Not all the way yet but it's better."
Chicago Bulls beat reporter
Nick Friedell is the Chicago Bulls beat reporter for ESPN Chicago. Friedell is a graduate of the S.I. Newhouse School of Public Communications at Syracuse University and joined ESPNChicago.com for its launch in April 2009.