Commentary
Bulls' second foe might be toughest
Scoring woes a formidable opponent -- and a huge obstacle to playoff success
Updated:
February 24, 2014, 4:49 PM ET
By
Michael Wilbon
| ESPNChicago.com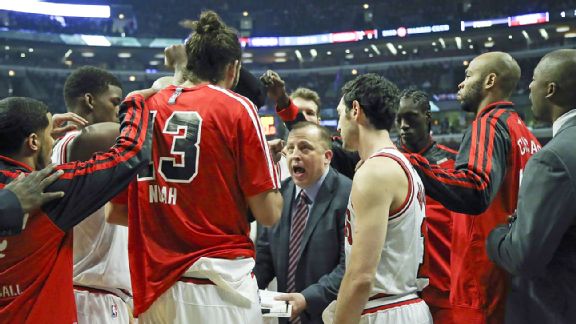 Nuccio DiNuzzo/Chicago Tribune/MCTNo bit of adversity seems insurmountable to Tom Thibodeau's Bulls except for perhaps their own inability to score consistently.
Luckily for the Chicago Bulls, not everybody in the NBA can take advantage of their glaring offensive deficiencies. If the opponent is Toronto or Denver or somebody of that ilk, the Bulls are resourceful enough, especially on defense, to cobble together the points necessary to push a winning streak to five games, to stay in the running for a top-four seed and home-court advantage in the first round of the playoffs.
But if the opponent is, say, the two-time defending champion Miami Heat, and the Bulls get a stinker out of the only player who can create his own shot, they have precious little chance to manufacture enough points to win. That was exactly the case Sunday in Miami when D.J. Augustin went 0-for-10 and the Bulls, not coincidentally, recorded seven shot-clock violations, including the inability to get off a shot on back-to-back possessions.
[+] Enlarge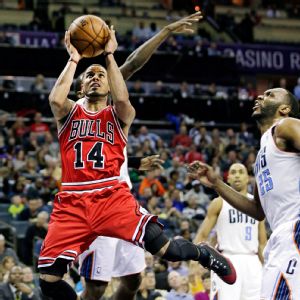 AP Photo/Chuck BurtonThe Bulls' already-limited offense hits a wall when D.J. Augustin struggles to find his shot.
It's a stunning failure of offense in this era of basketball, a performance made worse by the fact that Miami isn't playing anywhere near the defense it did last season. The Bulls' 12-point third quarter was the lowest scoring quarter against the Heat all season. In other words, nobody else in the league has been this inept against Miami.
This is precisely the basketball Jekyll and Hyde that is probably going to keep the Bulls looking like a threat to annoy the favorites one night and first-round fodder the next. The club stood pat before the NBA trading deadline for all the right long-term reasons. Acquiring an offensive player who could have helped in some marginal way this season would have seriously hindered the club's chances of improving the team in some major way during the summer.
Still, that leaves a team that is 28th in field-goal percentage (only Cleveland and Milwaukee are worse), that is 27th in three-point shooting, that commits way too many turnovers (15.8 per game) for a style of play doesn't push the pace, that is 30th in shots made per game, and 30th in the bottom line: points scored per game. The latest failure to launch was against Miami, but just three weeks ago, the Bulls managed only 70 points against the Sacramento Kings. This isn't something that can be fixed between now and the end of the regular season, or even be dramatically improved.
Not surprisingly, the Bulls attribute any kind of deficiency to not trying hard enough, to not fighting through, and indeed it's an approach that has served them incredibly well in the Tom Thibodeau era, this feeling that sheer determination can enable the team to overcome any limitation.
Joakim Noah, who hates losing to Miami more than any team in the league, wasn't in the mood afterward to hear about stinky offense. "I don't care about missed shots. When we play the Miami Heat, our intensity has to be high the whole time. To me, that's what's disappointing," he said. "We play the Heat -- those guys ended our seasons a lot. You got to hate playing these guys . . . every time we play them, our intensity has to be high. We did it in spurts. It wasn't good the whole time, and that's what's disappointing."
OK, undoubtedly the Bulls made entirely too many dumb decisions late in possessions, handing the ball to non-shooters with 5 seconds or less on the 24-second shot clock. They made lazy passes, weren't strong with the ball, dribbled aimlessly around the perimeter with the shot clock running down. And there was loosey-goosey stuff that has not been characteristic of the Bulls' play against the Heat during the LeBron tenure there. Even when the Bulls have half of their players on crutches, they usually put forth more energy against Miami.
[+] Enlarge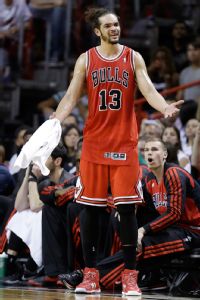 AP Photo/Lynne SladkyWhat Joakim Noah viewed as a lack of intensity against the Heat might have been more a case of a lack of offensive talent.
But the Bulls need a player (other than Augustin) who can use dribble penetration to scramble defenders or force a double-team that will ultimately create shooting space for players such as Mike Dunleavy and Taj Gibson, who can't create their own shots. What Noah interpreted as lack of spirit Sunday might very well have been the evidence of a lack of talent in a very specific and telling area.
Last season's roster had a couple of those players in Nate Robinson and Marco Belinelli, but was built knowing Derrick Rose wouldn't be around. This season's roster was built counting on Rose to be that player, so Augustin is Plan B. He has been a B-plus/A-minus stand-in so far and totally unexpected, but as was the case Sunday, if Augustin goes cold, the Bulls have virtually no way to successfully play around that. Once again, they don't have that ballhandling wing player who can break down a defense. And as great a season as Noah is having, it doesn't bode well when a team's best passer is its center.
So, the Bulls are going to score 117 on a bad defensive team on a night when they do everything close to perfection . . . and have multiple 24-second shot-clock violations when the opponent can ramp up the defense and Augustin has a bad night. It's a reality that is likely to prevent the Bulls from simply taking off and separating from the likes of the Raptors, Wizards and Hawks to land a top-four spot in the Eastern Conference, which is indeed a worthy goal for this season.
Is finishing strong going to help them get past the Heat or Indiana Pacers in the second round? Absolutely not. The Bulls have no way of mounting sustained offense in the course of a series -- which, by the way, directly undermines the defensive effort.
But finishing fourth and getting past an opponent like the Wizards, Raptors or Hawks and into the second round would do wonders going forward for Jimmy Butler, Tony Snell, Augustin and Dunleavy, to have gotten as many as a dozen games of playoff experience. The two things the Bulls will do with greater consistency than almost any team in the league the rest of this season is play with maximum effort and contentious defense.
As Noah knows, committing a massive effort every time out is necessary when you have to overcome a glaring weakness like they have on offense. But even on nights when the spirit is willing, the inability to score is going to be the Bulls' second opponent.
Pardon the Interruption co-host
Michael Wilbon is a featured columnist for ESPN.com and ESPNChicago.com. He is the longtime co-host of "Pardon the Interruption" on ESPN and appears on the "NBA Sunday Countdown" pregame show on ABC, in addition to ESPN. You can follow him on Twitter: @RealMikeWilbon