Grant: MJ's Bulls top LBJ's Heat
Updated:
June 4, 2014, 11:27 AM ET
ESPNChicago.com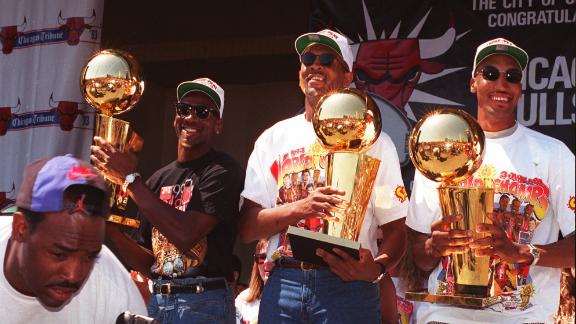 2014 Heat vs. 1993 Bulls
"First Take" debates how many games the current Heat team would have won against Michael Jordan's 1993 Bulls.
2014 Heat vs. 1993 Bulls
With four more wins, the Miami Heat will match one of Michael Jordan's greatest feats -- three straight NBA championships -- but former Bull Horace Grant says that doesn't mean LeBron James' team could have beaten those Chicago teams.
[+] Enlarge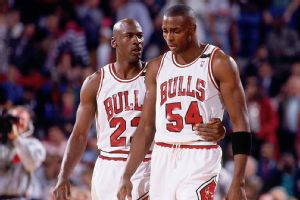 Nathaniel S. Butler/NBAE/Getty ImagesHorace Grant says the Heat "wouldn't have had a chance" against the Michael Jordan-led Bulls.
"The Heat wouldn't have had a chance," Grant said Tuesday on WSCR-AM in Chicago. "We would have locked them up. We would have locked them up. Especially with the rules today, Michael would have had a field day."
The Heat are in their fourth straight NBA Finals and will face the San Antonio Spurs for the second year in a row. Game 1 is Thursday night in San Antonio (9 ET, ABC).
Jordan led the Bulls to three straight titles from 1991 to '93 and then did it again upon coming back from retirement with three titles from 1996 to '98. The Los Angeles Lakers were the last team to win three championships in a row (2000-02).
If anything, Jordan can point to the fact his three-peat run was utterly dominant. Jordan and the Bulls swept teams five times and played only one Game 7. Jordan's playoff win percentage from 1991 to 1993 was .776 (45-13), compared to James' current .721 from 2012 to this postseason (44-17).
Chicago's Gamenight
Former Bull Horace Grant says his Bulls would beat this Heat team, he could handle Chris Bosh defensively and Michael Jordan would average 40 points a game in today's NBA.
Grant told ESPN Chicago 1000's Gamenight Tuesday that James would still be a star if he had played during Jordan's era, but if Jordan played in today's NBA his stats would be even more impressive.
"I'm not being biased, MJ would average 40 points today with the no hand-check rule," Grant said. "No question, 40 points."
Grant was part of the Bulls core that won the first three championships before he left as a free agent for the Orlando Magic.
Who will Grant be pulling for in these NBA Finals?
"My fingers and toes are crossed that San Antonio wins just for the fact of being a fan of [coach coach Gregg] Popovich and the way that organization carries itself and the guys on the floor: Tim Duncan, [Manu] Ginobili, [Tony] Parker, [Kawhi] Leonard," Grant said. "I'm a big San Antonio fan."
NBA FINALS ON ESPN.COM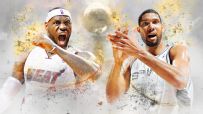 Follow the playoffs on ESPN:
Twitter | Facebook | G+
MORE CONTENT