Commentary
Relentless Rose getting drive back
Still finding his 'rhythm,' reigning MVP leads Bulls' frantic rally in fourth to victory
Updated:
January 4, 2012, 1:06 AM ET
By
Jon Greenberg
| ESPNChicago.com
CHICAGO -- Derrick Rose had Jeff Teague all sized up. We all know the aw-shucks attitude is for off the court. He's a predator between the lines.
So with the game there for the taking, Rose went to work. It was a sight to see.
Two between-the-leg crossovers, a hesitation dribble to freeze the point guard, and then an explosion to the hole. After he picked up the dribble, Rose carried the basketball -- though it wasn't a carry -- coasting toward the rim where Atlanta Hawks forward Josh Smith lay in wait.
[+] Enlarge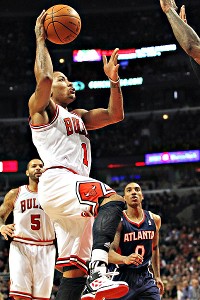 Jonathan Daniel/Getty ImagesDerrick Rose scored 30 points in 44 minutes against the Hawks on Tuesday.
Smith had already blocked Rose at the rim twice in the quarter, but this time Rose timed his shot perfectly, a teardrop high over Smith's extended hand. It kissed in off the glass.
The basket gave the Bulls a one-point lead with 9.9 seconds left.
It wasn't the winning points. Al Horford tied the game with a free throw on the other end, necessitating another winning play -- a fabulous Joakim Noah backdoor pass to Luol Deng a few seconds later on a set play. But still, to watch Rose move so economically and so decisively is a welcome sight.
"That's the beauty with Derrick," Noah said. "He just keeps attacking."
The way Rose sees it, he's just getting warmed up. This was only his second home game of the season and the sixth overall. The Bulls are 5-1, but far from a polished product.
"I'm still getting back into my rhythm of driving," Rose said. "Just trying to get fouled, and it's coming back to me slowly. But the more I'm playing games like this and the more I play, it's definitely coming back."
That's bad news for the rest of the league.
Rose scored 17 of his 30 points in the fourth quarter as the Bulls erased a 19-point third-quarter deficit to beat Atlanta 76-74 before a star-studded crowd at the United Center.
Besides teen heartthrob David Axelrod, there was that other teen heartthrob Chad Michael Murray, "Da Mare" Rahm Emanuel, and Chicago Bears Julius Peppers and Matt Forte.
The fans, bold-faced and otherwise, were treated to three pretty lousy quarters of basketball, which is not exactly abnormal in the NBA, truncated season or not. The Bulls shot just 33.8 percent for the game, with a 2-for-21 second quarter. Atlanta led 38-26 at the half, and the game was every bit as ugly as that score indicates.
"I felt bad for our fans to see us play that bad," Rose said with a straight face. "But we'll try to prevent that."
How bad were the Bulls? Rose's fourth-quarter output was greater than his team's combined total in each of the first three quarters. Chicago scored 15 in the first, 11 in the second and 16 in the third. Deng scored 13 in the fourth.
The Bulls trailed 56-42 going into the fourth when Rose went off. He scored eight straight for the Bulls, two 3s and two free throws, to cut the lead to seven, and after a Deng steal and layup, hit another 3 to make it 59-57 with 8:17 to play.
He hit two more free throws, fed Deng for a 3, but then went cold, missing three straight shots with around two minutes left. But he rebounded to make a layup to make it 72-71 with under a minute left, before his pivotal shot.
"Derrick was sensational down the stretch," Bulls coach Tom Thibodeau said. "He made big play after play."
It certainly helped Chicago that the Hawks were on the second night of a back-to-back, after beating the Miami Heat on Monday night. That's why Thibodeau kept his "energy team" on the floor late.
More On The Bulls

Can't get enough NBA news and notes? ESPNChicago.com has all the latest on the Bulls. Blog
Thibodeau kept Carlos Boozer on the bench all fourth quarter, along with Noah, so it was up to Rose and Deng, basically, to carry the team offensively. Each played the entire second half.
Rose didn't seem pleased with himself for shooting the Bulls out of their funk. In fact, he didn't seem pleased with the win at all.
"We got high expectations for ourselves," he said. "We've got to hold ourselves accountable on the court, and we don't want to be in that position again, I'll say that."
Rose, with his eyes fixed on making the NBA Finals, had reason to be upset with his team's effort, at least offensively. There was a lot of bad ballhandling, awkward passes. Thibodeau said the Bulls were playing backward for much of the game, passing when they should be shooting, shooting when they should be passing.
That happens in the NBA. There are bad nights for every team. But as Rose said, this win says something about the makeup of the team. Even with their shots not falling, the Bulls' defense stayed mostly on point, a few lapses notwithstanding.
Rose did his job on Teague, who went 2-for-8 and missed three free throws. Atlanta shooting guard "Iso Joe" Johnson went 3-for-17.
It's unfair to put all the responsibility on Rose -- the last play went to Deng after all -- but it's clear he's not taking a night off this season.
"I was saying something the game, the whole entire game, cursing, saying everything," he said. "But we got things together at the right time."
Jon Greenberg is a columnist for ESPNChicago.com.
Columnist, ESPNChicago.com
Jon Greenberg is a columnist for ESPNChicago.com. He has lived and worked in Chicago since 2003, and is a graduate of Ohio University and the University of Chicago.