Amare Stoudemire injures hand
Updated:
May 1, 2012, 2:31 PM ET
By
Ian Begley
| Special to ESPNNewYork.com
MIAMI -- A frustrated Amare Stoudemire punched a glass casing surrounding a fire extinguisher minutes after the New York Knicks' loss to the Miami Heat, according to a team source. The Knicks power forward suffered lacerations on his left hand which required stitches.
"

I am so mad at myself right now. I want to apologize to the fans and my team, not proud of my actions. headed home for a new start.

"

-- Amare Stoudemire tweet
A league source told ESPNNewYork.com that Stoudemire is "almost certain" to miss Game 3 on Thursday in New York and there is a possibility that Stoudemire could miss the rest of the series.
Stoudemire was treated by paramedics and team doctors from both the Knicks and the Heat and was seen leaving the arena with his left forearm and hand heavily bandaged and his arm being supported by a sling. He suffered the laceration on the inside of his palm, on the side of his hand closest to the pinkie.
A source with knowledge of Stoudemire's injury says there is no ligament or tendon damage in the hand.
He punched the glass casing after walking off of the court following the Knicks' 104-94 loss to the Heat.
"He was just frustrated," a league source with knowledge of the incident said.
More From ESPN.com

Amare Stoudemire picked the worst time to be selfish and took the Knicks down with him, Ian O'Connor writes. Story
---

It doesn't matter what set off Amare Stoudemire because the Knicks were already in trouble against the Heat, Brian Windhorst writes. Dime
• Paine: Knicks better off

Mike and Mike in the Morning:
• Brian Windhorst on injury scene


• Stephen A. Smith: Frustration


• Chris Mullin on Knicks' rollercoaster


• Brendan Brown on Knicks' future

Stoudemire's frustration may have stemmed from his shot attempts -- nine -- in Monday's game, according to the source. He scored 18 points and had seven rebounds.
Stoudemire addressed the incident via his Twitter account.
"I am so mad at myself right now," read a post on Stoudemire's verified account. "I want to apologize to the fans and my team, not proud of my actions. headed home for a new start."
A later post read: "We all have done thing out of anger that we regret. That makes us human. Bad timing on my part. Sorry guys. This to shall pass."
Knicks center Tyson Chandler said: "He's probably going to be out. I don't know how bad it is. ... Your emotions run high. In a split second, a decision can alter things. You can't fault anybody. We've got to deal with the repercussions."
Carmelo Anthony did not want to address the incident after the game.
"I don't know what happened," Anthony said, adding, "I really don't know where his situation is at. I don't know."
Stoudemire will travel back to New York with the team. The Knicks are not scheduled to practice Tuesday.
SportsNation: Amare Stoudemire's injury

Amare Stoudemire may be out for the playoffs after punching a glass case. Was he being selfish, or just passionate?
• Cast your votes!
Knicks interim coach Mike Woodson would not elaborate on the incident.
"How severe it is I don't know. I'm trying to learn more about it. That's it. Let's talk about the game," Woodson said.
The Knicks trail the Heat 2-0 in the best-of-seven series.
This is the second straight postseason in which Stoudemire suffered a self-inflicted injury. Last April, Stoudemire pulled a muscle in his back while attempting a dunk in warm-ups prior to Game 2 against the Boston Celtics. He was limited by the injury for the remainder of the series, which the Knicks lost in four straight.
Ian Begley is a regular contributor to ESPNNewYork.com.
ESPN New York Writer
Covers the New York Knicks for ESPNNewYork.com
2012 NBA Finals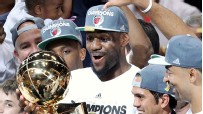 Follow the NBA on ESPN:
Twitter / Facebook / Google+
LATEST CONTENT
FINALS FEATURES
AUDIO/VIDEO
FINALS PAGE