Commentary
A case for a non-comeback
Derrick Rose has more to lose by rushing than the Bulls have to gain
Updated:
March 13, 2013, 12:26 PM ET
By
Scoop Jackson
| ESPNChicago.com
By the time you read this you might have already heard (or an announcement has been made or information has been mistakenly leaked) that Chicago's finest might be back in uniform, on the court, cape in Gucci bag in his locker stall, Chi-Town 3.5s on his feet, name being announced entering an NBA game. Ballin'.
As beautiful -- and important -- as the sight of Derrick Rose's return might be, there's a side to this story that seems to be lost in the city's emotional attachment and rush for him to Dark Knight the Chicago Bulls.
Remove our selfishness and look at the smaller picture. Too soon is too soon. Yes, he has been cleared to play and the Bulls are in quasi-desperate need for him and his presence on the court. But there are factors that Rose has to consider and forces working against him that no other player has to consider or factor in when they have to step on the court.
[+] Enlarge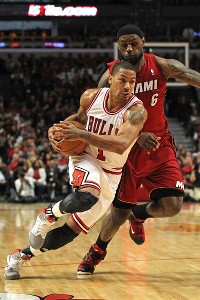 Jonathan Daniel/Getty ImagesDerrick Rose knows he needs to come back able to compete with the NBA's best.
The Pressure: There's no -- read again, "no" -- other player in the league that has and has had the pressure to return and perform at his former level than Rose had/has. He can't just come back to play basketball, he has to come back and save a team. Save an entire city. Rose understands this more than anyone, probably more than us. And with him knowing this, feeling this, he knows that his return is not just about working himself back into a playing rhythm for a playoff run. He knows what we are refusing to admit: His coming back is about so much more.
The Reality I: Lest we forget what position Rose is coming back to: the point guard. Before the injury he had a lock on one of the most coveted albeit mythical titles in the game: The Best Point Guard In The NBA. The names at the time he had to outplay, play better than, prove to be greater than, were equivalent to a National Dean's List if the NBA had a National Dean's List for players. Chris Paul, Russell Westbrook, Tony Parker, Rajon Rondo, Deron Williams. Once Rose won the MVP and led his team to the conference finals in 2011, he became the hunted; the point guard who set the new standard for all others to chase. That was then, it still is now. But the list has grown. Kyrie Irving wants in, Stephen Curry wants in, Monta Ellis and Brandon Jennings want in, Ty Lawson wants in, Damian Lillard wants in. Rose cannot be a part of giving any of these players that type of psychological advantage over him. Because once gone (think Tiger Woods), it's almost impossible to make players fear you again.
The Reality II: Rose realizes this. We don't. He knows that once he steps back on the court, it's going to be an all-out free-for-all with every point guard going at him for his No. 1 spot. Now, looking at the Bulls' remaining schedule, if he came back as early as, say, Friday, he'd have to face the following before the playoffs begin: Curry, Leonard, Lawson, LeBron James twice (note: even though LBJ is not a point guard he is the three-time and reigning MVP whom Rose stopped from a possible four-peat by being the only player not James to win the award since 2008, and LeBron will more than likely be guarding Rose during the games which is a whole 'nother issue for discussion for another column), Williams, Raymond Felton. If we don't think about the immediate psychological impact or damage that can be done to Rose if he loses those internal battles and the disadvantage he puts himself in by not being physically ready to win some, if not all, of these challenges, then we really don't know anything about the power the mind has in establishing a player's true greatness.
The Others: Look at Iman Shumpert. Look at Ricky Rubio. Look at Eric Gordon. Look at Amar'e Stoudemire. Look at Dirk Nowitzki. All had injuries that forced them to miss major parts of the season, all came back ... either too soon or as a shell of what they were before the injury took them out. Trust this: Rose is looking at all of them. He knows they have a luxury to return playing "mediocre" in a way he doesn't. No disrespect to Nowitzki, but the outcome of each franchise's season didn't ride or die with each player's return to 100 percent. Rose cannot afford to come back and have the same thing happen to him that happened to the aforementioned. A 60 percent Derrick Rose does not help the Bulls, it does not help him. And while we keep looking at Adrian Peterson as the miracle that should be Rose, the truth is he runs a greater risk of repeating Shumpert's return than Peterson's.

From preps to the Bulls, ESPN Chicago focuses on point guard Derrick Rose.
The moral? You can't come out of the pit stop doing 60 when everyone else is doing 140 and expect to seriously compete in the race. (Nor can you do the same and not expect to get hit, crash and burn and miss the rest of the race altogether.)
All of this goes to say that despite how vague we might think Rose's recent answers are for not yet returning, there are things beyond "just coming back for the sake of coming back" that are in play. We should not be so quick to rush to judgment on Rose's comeback or rush him to come back, because there is much more involved in his comeback than what we see on the surface.
In other words: "Don't come back, Derrick." Not until you are mentally and physically ready to make all of the above variables moot points. Until people read this and say that I have no idea what I'm talking about.
Because, the way I see it, Derrick Rose has more to lose returning sooner than later than the Bulls have to gain. This is what we have to unconditionally accept. This is what we all must live with.
ESPN.com columnist
Columnist for ESPN.com and ESPN The Magazine
Wrote for Slam, XXL, 6 years with NBA; 4 years with Nike