Commentary
Deng's toughness is unquestioned
Bulls forward doesn't have to rush back to prove he's committed
Updated:
May 10, 2013, 12:30 PM ET
By
Jon Greenberg
| ESPNChicago.com
DEERFIELD, Ill. -- Luol Deng may have lost 15 pounds in the past week, but as his coach likes to say, he still "has more than enough" to carry that large chip on his shoulder.
Don't get me wrong, it's a good chip.
[+] Enlarge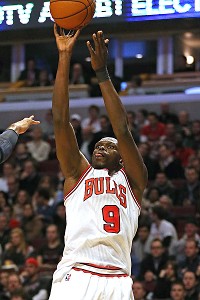 Jonathan Daniel/Getty ImagesLuol Deng led the NBA in minutes per game for a second straight season despite dealing with several injuries.
That's the chip that he's carried over the past three seasons as he's become the Minute Man, playing through a famously injured wrist and numerous other injuries.
That's the chip he brought with him to two All-Star games.
That's the chip that drove him to Twitter on May 3 as the Bulls prepared to play Game 7 of their first-round playoff series -- to defend himself and explain exactly why he had to leave the United Center before the previous game.
The news of his spinal tap had already been out there, reported by CSNChicago.com, but Deng was still hearing people say he was out with "the flu," because that was what the team announced.
Deng, who has hated talking about his injured wrist the past two seasons, wanted to set the record straight, even if he had to do it from the emergency room.
Why?
Maybe it's the drumbeats of criticism directed at Derrick Rose. Maybe it's the memory of past slights. Most likely, it's both.
"It really upsets me that everyone thinks I would miss a game bc of the flu. I've played a lot of games w the flu in my career," he tweeted, the first of five such explanations.
SVP & Russillo
Bulls.com's Sam Smith dishes on the Heat's dominant performance in Game 2, says Noah and Robinson showed their flaws in the game, dishes on the latest updates regarding Derrick Rose's health and more.
On Thursday, the eve of the Bulls' third game of their second-round playoff series against the hated Miami Heat, a visibly weakened Deng spoke for the first time since that May 1 spinal tap that was meant to reveal if he had meningitis (he didn't) and wound up causing a wave of side effects that sent him back to the hospital, scared for his life, and might have ended his season.
"I just felt like everyone kept saying I was missing the game because of the flu," Deng said at the Berto Center. "I've been here for nine years. I've played games with the flu without coming to the media and saying I have the flu. ... It kind of bothered me a little bit that was being said when it was a totally different thing.
"The bottom line -- I wanted to let people know I wasn't at home on my couch relaxing and watching the game."
The thing is, no one doubts Deng's toughness, least of all the reporters who cover him on a daily basis or the fans who watch him play. He's led the league in minutes per game the past two seasons and was third in total minutes in 2010-11, when he played all 82 games for the second time in his career.
Under Thibodeau's exacting standards, the Bulls are the league standard in "toughness," and no one represents that better than Deng, Thibodeau's security blanket of a small forward.
"

I've went through the wrist, the torn ligament and everything. I had a fractured thumb earlier this year, I played with it. I went through all that just to be able to play. But I didn't think something besides an injury would keep me out. That's what makes it really hard.

"

-- Luol Deng
But there was a time people did doubt Deng's heart, and he'll never forget it. It's why he soldiers on through injuries that would sideline other players.
"We've had a long season," he said. "I've played with a lot of injuries. I've went through the wrist, the torn ligament and everything. I had a fractured thumb earlier this year, I played with it. I went through all that just to be able to play. But I didn't think something besides an injury would keep me out. That's what makes it really hard."
That was, I believe, the first we knew about the thumb. Deng has also suffered from a bruised hip and a sprained ankle. Let me know if I've left anything out, Luol.
Deng left his bed to meet the Bulls at the Berto Center to watch film of their beatdown by the Heat the previous night.
"I tried to shoot a little, but I struggled," he said. "I couldn't do it."
Reporters laughed nervously when Deng led off his news conference with a cough, but got very serious as he listed his medical problems.
"I started having severe headaches, was struggling to walk," he said. "I started feeling really weak, started throwing up, constant diarrhea. I couldn't control my body, really."
A second blood patch procedure helped, he said. But he doesn't feel good. Forget basketball shape -- he's just trying to walk around.
"I'm weak and I have headaches," he said. "When I'm moving around a lot, my headache increases, that's really the main thing."
So yeah, I don't see him bodying up LeBron James anytime soon. I'd be shocked if we saw Deng again this series, but I wouldn't count him out. If he can play in, say, Game 5, he will. You can say he shouldn't, but it's Deng's body and his life.
That's why I supported his playing in the Olympics with a torn ligament in his wrist. Some thought he should've gotten surgery for the good of the team. But Deng knows his limitations. He played through that injury in London, for England, his adopted country, and through 75 games in the regular season, leading the league for the second straight time in minutes per game.
While some angry Rose critics would use Deng's toughness as a cudgel against Rose's reputation, the small forward would disagree.
Deng knows how the public's perception of an athlete's injury can be skewed, and how it can be twisted by misinformation, even by your own team.
In early March 2009, the Bulls released a letter from the team's doctor saying the sidelined Deng needed "active rest" and was "encouraged to challenge himself physically" before an "expeditious return to play." Deng, who had just signed a long-term deal, got a second opinion from a doctor and didn't play again that season, missing out on an exciting first-round playoff loss to Boston.
A few weeks ago, Deng spoke to the team's website reporter Sam Smith about the similarities in public reaction between his injury and Rose's surgically repaired ACL.

ESPN Chicago takes a look at the Bulls vs. Heat in our photo gallery.
"I had a broken leg," Deng told Smith recently. "That's the bottom line. I had a broken leg. But no one, excuse my language, gave [a darn]. To me, there was nothing like that [I had ever experienced]. I don't think I can go through anything for the rest of my career that's going to affect me as much as that did."
The criticism of Rose bothered him, he said.
In 2010, as Deng repaired his reputation, he told me, "What bothered me was that people think I care about money more than the love of the game. But the reason I got the money was because of the love of the game."
I'm sure Rose, who laughably denies knowing about any criticism of his health, feels the same. Maybe it will drive him like Deng when he returns. There are worse people to emulate.
I don't buy that the Bulls, their trainers and doctors don't have the players' best interests in mind. But this is a game that requires athletes to play through injury. There is a fine line between tough and foolish, and it's not always clear which side one is on. Some guys need pushing and others need help stepping back.
I do know it's easy to ruin a guy's name through anonymous sources and unfettered opinions from the sideline. But this is the price to pay when you're a famous, rich athlete. You have to deal with speculation and mud-slinging. It's part of the deal.
There is no question about Deng's status in Chicago. The name Luol Deng will always be respected here. He's earned that and more.
Now get some rest, Luol. As your coach likes to say, your teammates have more than enough to win with until you get back.
Columnist, ESPNChicago.com
Jon Greenberg is a columnist for ESPNChicago.com. He has lived and worked in Chicago since 2003, and is a graduate of Ohio University and the University of Chicago.
The NBA Playoffs On ESPN.com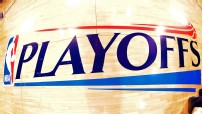 Follow the NBA playoffs on ESPN:
Twitter / Facebook / Google+
LATEST CONTENT
SERIES PAGES