Derrick Rose aggressive in return
Updated:
October 6, 2013, 1:07 AM ET
By
Nick Friedell
| ESPNChicago.com
INDIANAPOLIS -- Chicago Bulls star point guard Derrick Rose returned to the court Saturday night after missing the past 17 months while recovering from knee surgery, scoring 13 points in 20 minutes in an 82-76 victory against the Indiana Pacers in both teams' preseason opener.
More from ESPNChicago.com

Finally back after a city-crushing ACL injury, Derrick Rose on Saturday night showed the Bulls what they had been missing, writes Jon Greenberg. Story
---

The Bulls were happy to finally have Derrick Rose back Saturday night. But they were even happier to see the former MVP playing like his old self, writes Nick Friedell. Blog
Rose, the 2010-11 league MVP, looked comfortable on the floor and happy to be back with his teammates as he displayed his trademark speed at various points throughout the game, including a breakaway dunk early in the third quarter.
"I've been preparing myself for this moment for a year and a half now," Rose said after the game. "So just getting prepared for this and continue to go out there and know how blessed I am to be stepping back on the court again, especially with these guys that dedicated their whole summer to trying to make this team better. I'm fortunate to be on this team and blessed to be in this organization and playing for Thibs [coach Tom Thibodeau] and the coaching staff."
The feeling is mutual within the Bulls organization. Thibodeau was pleased to see Rose back on the floor and was happy with the 25-year-old's effort.
"It was good to have him back for sure," Thibodeau said. "I think you see how he makes the game easier for everybody. And the speed with which he plays, you got to get accustomed to that, too. His teammates have to get used to it again. He has to get used to it. But overall I thought he played very, very well. Some rust, but that's to be expected. But you could see as each minute went by he got more and more comfortable, and he ran the team great."
Rose acknowledged throughout the week that he thought he'd have some rust, and he was right. He turned over the ball four times and seemed a little out of sync at times.
The good news for the Bulls is that Rose showed no hesitation while going to the rim. He attacked the basket the same way he did before the injury and didn't back down when Pacers center Roy Hibbert stood in front.
"We've been seeing it in practice," Thibodeau said of Rose's aggressive play. "He's hit the floor, he's aggressive, that's the way he played before the injury and he's back to playing like that, and for him that's his game. The speed, the quickness, but the power to go along with it. That's what makes him so special and unique. There's no one like him."
[+] Enlarge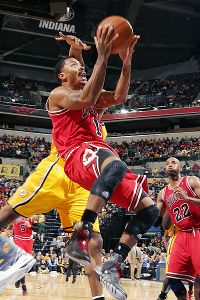 Ron Hoskins/NBAE/Getty ImagesDerrick Rose was back on the court for the Bulls on Saturday night, showing no hesitation while going to the rim against the Pacers.
The opposition was impressed, as well.
"Same old Derrick Rose," Pacers coach Frank Vogel said. "He looked great."
Rose's return has been a hot topic around the league for months, and the energy in Bankers Life Fieldhouse was high from the outset. Many fans cheered loudly when he was introduced in the starting lineup, and the crowd erupted when he touched the ball for the first time. Rose left the game with 7:07 remaining in the third quarter and iced both knees while sitting on the end of the floor with some of his teammates.
Rose admitted that he was relieved to get his first game out of the way, but he wasn't surprised by his hard-nosed play. He has said repeatedly during the last two weeks that he is no longer thinking about the way his knee is feeling.
"I knew that I was going to play the same way [I did before the injury]," he said. "Play aggressive, make them stop me, but get out on the open court like we've been playing in practice."
A noticeable difference in Rose's in-game routine is his new stretching regimen. After exiting the game in the first quarter, he used a softball and then a smaller ball underneath his leg to keep it loose while he sat on the floor.
Rose even surprised the assembled media when he said he's gained five inches on his vertical leap since the knee surgery in May 2012.
"I think I jump higher," he said. "I think coming into the league I was at 37 [inches for a vertical jump] and they tested my vertical at [a training facility] I'm probably at like a 42, so I'm jumping a little bit higher."
Rose tore the ACL in his left knee in the first game of the Eastern Conference playoffs in April 2012.
Information from The Associated Press was used in this report.
Chicago Bulls beat reporter
Nick Friedell is the Chicago Bulls beat reporter for ESPN Chicago. Friedell is a graduate of the S.I. Newhouse School of Public Communications at Syracuse University and joined ESPNChicago.com for its launch in April 2009.