Commentary
These aren't Mike Ditka's Bears
Destruction of Cowboys proves Chicago needs to embrace offense-first identity
Originally Published:
December 10, 2013
By
Michael Wilbon
| ESPNChicago.com
CHICAGO -- They might have left themselves too little time to rally and reach the playoffs. Perhaps they just figured it out a bit late. But that thing the Chicago Bears did to the Dallas Cowboys on Monday night is the new formula; it's what the Bears have to be now. Butkus and Singletary ain't walking through that door. It's an entirely new day, a Bears team we've never ever seen before. Ever. Throw the damn ball, son. Throw it to Marshall, throw it to Jeffery, throw it to Bennett, and that other Bennett, too. Lob it over the crazed pass-rushing linemen to Forte, if you want, or even Bush.
The Bears scored 45 points and pulled up on the Cowboys late in the fourth quarter. They scored 45 points with no defensive takeaways; 45 without Devin Hester taking one to the house; 45 points even though the quarterback couldn't feel his toes because it was 8 degrees when the game started, minus-10 factoring in the wind chill. The Bears scored 45 points on their own, throwing and running like, well, the 49ers or Patriots or Chargers. They scored on eight consecutive possessions. The Bears' punter didn't once punt. Maybe he'll thaw by Thursday.
[+] Enlarge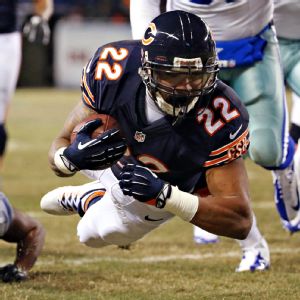 Brian Cassella/Chicago Tribune/MCT/Getty ImagesRunning back Matt Forte went over the 1,000-yard mark for the season with his second consecutive 100-yard outing.
If what happened Monday bears no resemblance to the Bears of your daddy and granddaddy and his daddy, so be it. None of Papa Bear's teams, none of Coach Ditka's teams, no Bears team ever had the offensive weapons Marc Trestman has. And finally, on the second Monday night of December, he took the restrictor plate off. The Vikings and Lions before them would have gone down the same way, but maybe Trestman had to figure this out himself, in his own sweet time. But there's no going back now; there had better not be. Each of the remaining three games is going to be just like the Dallas game, which is to say a "must win" if the Bears are to take the NFC North and reach the playoffs. And each game, very likely, will have to be won the same way the Bears beat Dallas, which is to say by attacking the opposing defense as if it's a video game.
"This," Julius Peppers said, "is what we can be." Truth is, it's what the Bears have to be. The defense has too many players out with injuries to stop anybody -- couldn't stop DeMarco Murray on Monday night. He ran like Adrian Peterson did last week: 18 carries for 146 yards, an average of 8.1 yards per carry. You know how the Bears have to play defense the rest of this season? With great offense. They held the ball nearly 37 minutes while Dallas had it only 23 minutes. The Bears offense kept Tony Romo off the field to the point he was only out there long enough to throw 20 passes. "Our offense made it much, much easier for us," Peppers said of the defense. The Bears converted 8 of 11 third downs, 73 percent of them. That's Tom Brady, Peyton Manning-land. Matt Forte rushed for 100 yards again. Josh McCown was great again: 27-of-36 for 348 yards, four touchdowns, no interceptions and one bodacious touchdown run. McCown's passer rating? A stellar 141.9. If this is relief pitching, McCown is threatening to turn into Mariano Rivera.
So, the question becomes, can the Bears do this next week in Cleveland, the week after in Philly and the final Sunday of the season back home against the Packers? The answer, probably, is yes because there's no way to stop the players they throw at defenses. Brandon Marshall and Alshon Jeffery, quite simply, form the best receiver tandem in the NFL. Each averaged nearly 17 yards a catch against the Cowboys. Marshall now has 84 receptions for 1,090 yards and nine touchdowns, while Jeffery has 75 catches for 1,193 yards and six touchdowns. They're too big, too fast, too strong and too good (thank you Stacy King) for anybody to guard. If you double them both, McCown is quite happy to find Martellus Bennett (53 catches, 588 yards and five touchdowns) or Forte (65 catches for 518 yards in addition to 1,073 rushing yards and nine touchdowns total).
As a group, they're too good in open space, too good after the catch, too diverse in talent for today's neutered defenses to counter. And Jeffery is becoming a wonder, the way he sticks his mitts up and snatches passes away from defenders like his hands have some sort of vacuum suction. The touchdown Jeffery caught at the end of the second quarter, which really seemed to demoralize the Cowboys, is the kind of play that's going to drive the Browns' defensive coaches crazy all week. Jeffery is turning into a monster, which only makes Marshall more difficult to defend, which only opens up running room for Forte, who'll be looking at safeties 20 yards down the field, which keeps defenses from being able to tee off on the quarterback, in this case McCown, who keeps doing and saying all the right things about being the backup while playing just a shade behind Nick Foles.
NFL Playoff Machine
Check current playoff seedings and Week 17 scenarios.

Playoff Machine | Scenarios
The assist they need, from here on out, is for Trestman to be as aggressive and creative with his play calling as he was against Dallas, for the coach to not go into a shell because he's on the road or he doesn't want to press his luck and worry about a turnover or two, or whatever coaches begin to stress over when they go ultraconservative. The Bears don't have any other way to win; you see how easily they let Dallas go for 28 points? Does all this mean the Bears will score 45? Well, yes, it actually can. The personality of the team is beginning to evolve. Players talked about it afterward, in almost hushed tones in the locker room. It's one thing to know what your team can do, it's another to see it happen. Marshall/Jeffery/Forte/Bennet&Bennett actually want to play this aggressively. They want their coach to go after defenses just the bloodthirsty way he went after the sorry, overrated Cowboys on Monday night. Young tackle Jermon Bushrod remembered looking up at the scoreboard late in the second half and seeing that McCown's passer rating was "140-something ... and I think we had 150 yards rushing ... and we spread it around. Everyone got touches. It was beautiful."
Marshall and Cutler were never delusional about the offense. They said in September and then again in October it would take time for the players to feel the notes, for the coaches to orchestrate the music. And suddenly the Bears are a team with a viable winning option, one that doesn't have to wait for Hester to break one or the defense, crippled with injuries, to score or put the offense on a short field.
On a frozen night that used to produce 9-7 games in Chicago, the Bears honored one of their five greatest offensive players, the one and only Mike Ditka, the man who was the template for the modern pass-catching tight end, the only man intimately involved with the franchise's two NFL championships in the past 50 years, who has lorded over Chicago football for a lifetime. Ditka, Walter Payton and Gale Sayers are among the handful of modern Bears skill-position players who would have been featured in this kind of explosive ball-movement offense. When the night began, given the fretting all week over the importance of the game, it seemed Ditka's jersey retiring ceremony could have been the only highlight, a diversion for a team needing to get on a run without the customary defense to ignite such a thing.
But the celebration of Ditka, overdue as it was, became secondary, just as he had said during lunch he wanted. Ditka, as everyone around here would expect, exhorted the defense during the afternoon, knowing the potential on offense but not really expecting this kind of breakout performance as the temperatures dropped to nothing. Now, a league knows what these Bears are capable of, the weapons they have for the first time in club history. But the Bears know, too, and there's every reason after seeing what they did to the Cowboys to expect these new Bears to grow on us.
Pardon the Interruption co-host
Michael Wilbon is a featured columnist for ESPN.com and ESPNChicago.com. He is the longtime co-host of "Pardon the Interruption" on ESPN and appears on the "NBA Sunday Countdown" pregame show on ABC, in addition to ESPN. You can follow him on Twitter: @RealMikeWilbon
THE NFL ON ESPN.COM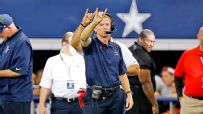 Extra points will likely be different in 2015, but how? We dissect the proposed changes.
Nike Men's Home Limited Jersey Chicago Bears Matt Forte #22 Shop »