'Best Fans' title goes to Packers
Updated:
August 21, 2014, 11:49 AM ET
ESPN.com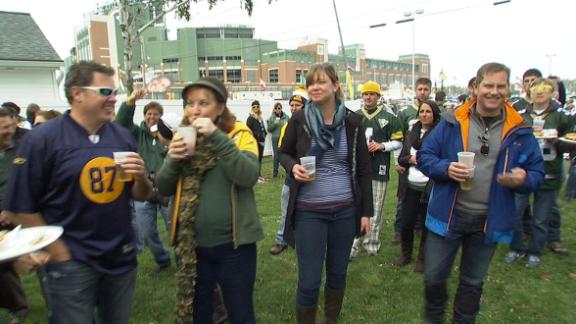 No Spain, No Game: Green Bay Packers
Sarah Spain heads to Lambeau Field to check out how Packers fans turn their backyards into tailgating frenzies.
No Spain, No Game: Green Bay Packers
"TitleTown USA" has yet another championship to add to its resume as Forbes magazine has declared that the Green Bay Packers have the "Best Fans in the NFL."
How rabid are Packers fans? Dare you ask?
They Back Their Pack
According to criteria compiled by Forbes magazine, the Green Bay Packers have the NFL's best fans. Their top 10:
1. Green Bay Packers
2. Denver Broncos
3. New Orleans Saints
4. New England Patriots
5. Baltimore Ravens
6. Indianapolis Colts
T-7. Dallas Cowboys
T-7. Pittsburgh Steelers
9. Seattle Seahawks
10. Chicago Bears
Source:
Forbes rankings: Best NFL Fans
According to research by Nielsen Scarborough, only 16 percent of adults living in Green Bay, Wisconsin, are NOT fans of the team. That means everybody else in the metro area has either watched, attended and/or listened to the Packers' games in the past year.
Fan bases of the Denver Broncos, New Orleans Saints, New England Patriots and Baltimore Ravens round out the magazine's list of the top five.
The Forbes rankings were based on the hometown crowd reach, social media reach based on the area's population and three years' worth of Nielsen television ratings, stadium capacity percentage and merchandise sales via NFLShop.com.
Green Bay is the NFL's smallest market with a metro population of 306,241, which is easily surpassed by the Packers' backers on both Facebook (4.4 million) and Twitter (701,000).
And, of course, it doesn't hurt that the Packers are the only game in town and have an NFL-record 13 championships to their credit.
The study said Packers fans scored the highest marks in every category except for TV rankings (second) and merchandise (seventh).
Six other teams in the study -- the Dallas Cowboys (tied seventh overall), Broncos, Indianapolis Colts (sixth), Patriots, Saints and Pittsburgh Steelers (tied, seventh) -- also had social media numbers that were larger than their local fan base populations.
THE NFL ON ESPN.COM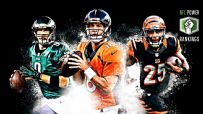 Seattle's surprising loss dropped the champs in our hierarchy. Who snared the top spot?