Commentary
Forte trying to keep his balance
With three straight subpar games and a new QB, Bears back hopes to rebound
LAKE FOREST, Ill. -- Matt Forte needs to keep his eye on the ball.
Not literally, of course.
The Chicago Bears running back only has two fumbles this season and, since joining the league in 2008, is second among all NFL running backs in receiving yards (1,985).
[+] Enlarge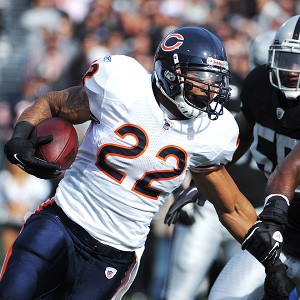 Kirby Lee/Image of Sport/US PresswireMatt Forte is averaging just 60 yards a game over the past three games.
No, Forte, who has been justifiably put out this season that he and the Bears failed to come to an agreement on a new contract, has been out of his normal rhythm on the field the last three weeks (gaining 64, 57 and 59 yards, respectively) and needs to guard against losing his equilibrium off the field as well.
Last week against the Raiders, Forte had only 12 carries and averaged 4.9 yards per attempt. But take away his 33-yard run in a first-quarter drive that ended in a Caleb Hanie interception, and he ran for 26 yards on 11 carries.
Against San Diego the week before, Forte ran the ball 20 times and averaged just 2.9 yards per carry. And take away his 40-yard run against Detroit at home the week before, and he rushed for 24 yards on 17 carries.
Obviously, teams have been keying on the NFL's third-best in rushing yards (985) and fourth-best in rushing yards per game (89.5) by stacking the box.
"Sometimes we get an extra guy in there and block, but now there's eight, nine guys in the box sometimes, so you have to find different ways to attack that defense because we know they're going to gear up to stop the run," Forte said. "But as long as we continue to hurt them in the passing game, hopefully that will make them back out and then we can get some of the runs like we were getting earlier."
Hanie proved with his 81-yard strike to Johnny Knox late in the fourth quarter in Oakland that he is capable of keeping a defense honest. But offensive coordinator Mike Martz's decision to call for passes on 20 of 33 plays in the first half is just the thing, according to Forte, to throw a running back and a football team out of whack.
"I think it goes for most running backs who carry the ball to get into a rhythm," Forte said. "When you see guys who have good games, they usually have 20-plus carries."
Here's the thing, though. Martz has a good change-of-pace option in the hard-charging Marion Barber, who led the Bears in rushing Sunday with a season-high 63 yards on 10 carries. Despite sitting out the first three regular season games with a calf injury, Barber has five touchdowns, all but one from 3 yards and in.

"[Barber] has very soft hands, he's a good pass blocker, he can do anything we ask him to do," Martz said. "His running style is so different, and he's such a powerful runner and yet he has the feet and all the [attributes] of smaller backs. Matt can drop his shoulder and do things. Matt can be here and then out the gate, but Marion will run you over and go out the gate. That's a nice thing to have."

The trick is to keep Barber involved with eight to 10 carries a game while keeping Forte's number of carries at 20 or more.

"Using those guys is going to be vital down the stretch," Hanie said. "It's going to be important for the offense to keep both those guys involved."

Forte took it personally when the Bears brought in Barber this season for short-yardage and goal-line situations, and his comments Wednesday suggested he's still not thrilled.

"It's all about getting push because everyone's in there, so you know where the ball's going," Forte said. "I guess the coaches must think they should put him in there. It wasn't my decision."

His strategy, however, is simple.

"I just say to myself, 'Why not just score from out?' " he said. "If they're not going to put me in on the goal line, just score from out."
ESPNChicago.com Bears blog

Get the latest from ESPN Chicago.
Bears blog »

50 Greatest Bears

Quarterback Jay Cutler, speaking publicly Wednesday for the first time since undergoing surgery on his fractured thumb last week, recommended an ultra-conservative approach with Hanie under center.

"The way the defense is playing right now, we can punt the ball, three-and-out, it isn't that bad," he said. "We can play the field-position game, use Matt, use our defense, take our shots and be smart."

Cutler would like to see to see more of Forte in the run game. Featuring him in a ball-control, short-passing game is just as effective, though ironically, it could burn him out if he's not careful.

Forte's 1,475 yards from scrimmage is best in the NFL this season, and Forte and Buffalo's Fred Jackson are the only two players in the league with 900 yards rushing and 400 yards receiving.

In 11 games, Forte is averaging 139.1 yards from scrimmage, the second-highest average in team history. That trails Walter Payton's 151.5 in 1977, though Forte is on pace to break Payton's record with 2,145 total yards.

As he looks toward at least one more season locked into a contract with a Bears team he feels undervalues him, Forte needs to take it the proverbial one game at a time.

Melissa Isaacson is a columnist for ESPNChicago.com
Columnist, ESPNChicago.com

Melissa Isaacson is a columnist for espnW.com, ESPN Chicago and ESPN.com. The award-winning writer has covered Chicago sports for most of her 31-year career, including at the Chicago Tribune before joining ESPN in 2009. Isaacson has also covered tennis since 1986.
Nike Men's Home Limited Jersey Chicago Bears Matt Forte #22 Shop »