Bears put Nate Enderle on inactive list
Updated:
January 1, 2012, 9:21 PM ET
By
Jeff Dickerson
| ESPNChicago.com
MINNEAPOLIS -- Chicago Bears fans clamoring to see rookie Nate Enderle make his NFL debut will be kept waiting.
Enderle was inactive for Sunday's 17-13 win versus the Minnesota Vikings, as Caleb Hanie was the No. 2 quarterback behind starter Josh McCown.
More From ESPNChicago.com

Can't get enough Bears information? ESPNChicago.com has all the latest on the Monsters of the Midway. Blog
Meanwhile, middle linebacker Brian Urlacher was active despite suffering a knee injury in last week's loss to the Green Bay Packers.
Two other notable scratches in the season finale were veteran running back Marion Barber and defensive end Corey Wootton. This marked the fifth game of the year Barber has missed due to a calf injury, while Wootton wrapped up his sophomore campaign with zero sacks and seven total tackles. Wootton's lack of production and health issues highlight the need for the Bears to add a legitimate pass-rushing defensive end in the offseason.
Other Bears' inactives included: guard Mansfield Wrotto, tackle Levi Horn, tight end Andre Smith and defensive tackle Jordan Miller.
Jeff Dickerson covers the Bears for ESPNChicago.com and ESPN 1000.
Chicago Bears beat reporter
Dickerson has been the Bears beat reporter for ESPN Chicago since 2004. He also hosts weeknight radio shows on ESPN 1000.
NFL WEEK 17 COVERAGE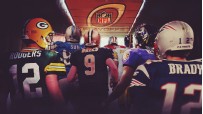 POLIAN, MORRIS, SPAGNUOLO OUT
BENGALS AT TEXANS (Sat., 4:30 ET)
LIONS AT SAINTS (Sat., 8 ET)
FALCONS AT GIANTS (Sun., 1 ET)
BRONCOS AT STEELERS (Sun., 4:30 ET)
COWBOYS AT REDSKINS (Sun., 8:20 ET)
WEEK 17 COVERAGE
NFL DRAFT