Matt Forte uncertain about a new deal
Updated:
January 2, 2012, 11:30 PM ET
By
Jeff Dickerson
| ESPNChicago.com
LAKE FOREST, Ill. -- Chicago Bears running back Matt Forte did not sound optimistic on Monday about the prospects of reaching an agreement with the club on a new long-term contract in the offseason, despite being voted to the Pro Bowl in the final year of his original rookie contract.
"I have no idea," Forte said. "Nobody is talking right now, so we'll see."
Of course, the Bears could decide to apply the franchise tag to Forte, which would prevent the running back from reaching unrestricted free agency. Forte was non-committal when asked if he plans to hold out to protest the use of the tag.
More From ESPNChicago.com

Can't get enough Bears information? ESPNChicago.com has all the latest on the Monsters of the Midway. Blog
"I don't know," Forte said. "We just ended the season. I have no idea."
Forte and his agent were unable to finalize an extension with the organization prior to the start of the 2011 regular season, even though team general manager Jerry Angelo said locking up the versatile rusher was a priority following the NFL lockout.
ESPNChicago.com reported the Bears' final offer to Forte contained between $13-$14 million in guarantees. That offer, according to Angelo, showed the Bears made a genuine effort to re-sign Forte, whom the club originally selected in the second round of the 2008 NFL draft.
"Of course he is going to say that," Forte said. "The deal didn't get done, basically. He can say all he wants to say about effort and all that stuff ... it didn't get done. We'll see what happens. Now, my agent even told me the longer we wait the harder it's going to be to do."
Forte hinted on Monday the Bears used his prior lack of a Pro Bowl berth as a negotiating tool over the summer. This season he compiled 1,487 yards from scrimmage before suffering a sprained MCL and missing the final four games.
"I thought my value was pretty high before (the 2011 season), but obviously, making the Pro Bowl this year ... for some people who thought I wasn't a Pro Bowl player or that type of player, the value goes up," Forte said. "I didn't have surgery. I don't have to have surgery. There is nothing wrong with my knee. It's actually healing up pretty well, so I don't think that does anything (to my value)."
Despite ending the year on injured reserve, Forte badly wants to participate in the Pro Bowl later this month, but needs to first pass a physical. Even with all the uncertainty surrounding his contract situation, Forte is not concerned about re-injuring the knee by playing in a meaningless exhibition game.
"I can get injured walking out the door, so the Pro Bowl, it's my first time making it, I want to be on the field," Forte said. "So you can't worry about injuries all the time."
Bears coach Lovie Smith was supportive of Forte's desire to play in the Jan. 29 game in Hawaii.
"If Matt wants to play in the Pro Bowl, I'm all for him playing in the Pro Bowl," Smith said. "I think it's special when you get voted by your peers, to go to your first Pro Bowl."
Jeff Dickerson covers the Bears for ESPNChicago.com and ESPN 1000.
Chicago Bears beat reporter
Dickerson has been the Bears beat reporter for ESPN Chicago since 2004. He also hosts weeknight radio shows on ESPN 1000.
NFL WEEK 17 COVERAGE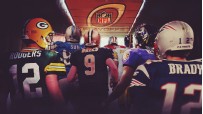 POLIAN, MORRIS, SPAGNUOLO OUT
BENGALS AT TEXANS (Sat., 4:30 ET)
LIONS AT SAINTS (Sat., 8 ET)
FALCONS AT GIANTS (Sun., 1 ET)
BRONCOS AT STEELERS (Sun., 4:30 ET)
COWBOYS AT REDSKINS (Sun., 8:20 ET)
WEEK 17 COVERAGE
NFL DRAFT