Roger Goodell talks football safety
Updated:
March 6, 2013, 10:17 PM ET
ESPN.com news services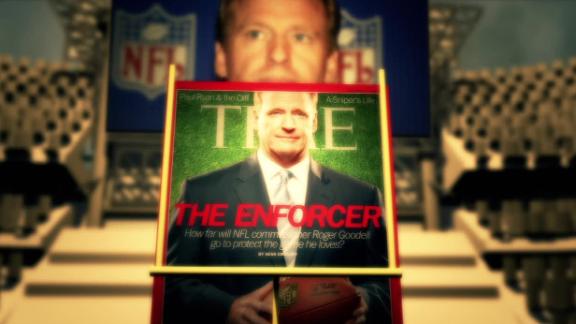 OTL: A House Divided
Since becoming NFL commissioner in 2006, Roger Goodell has earned the respect of the league's owners and the criticism of many of its players for his handling of a number of issues, including the Saints bounty scandal.
OTL: A House Divided
CHAPEL HILL, N.C. -- NFL Commissioner Roger Goodell says the league will continue to do "everything we can" to make football safer.
Player safety in the NFL has been a frequent topic of conversation recently and Goodell discussed it again Wednesday during a lecture and question-and-answer session at the department of exercise and sport science at the University of North Carolina.
"We know that in order to secure the future, we can and must do more to make the game safer, and in the process, we will make other sports safer as well," Goodell said.
Following his speech, Pro Football Talk reported that Goodell denied that he made comments in an ESPN The Magazine piece saying he fears an NFL player will die on the field.
Goodell called for "a culture of safety for every sport" and welcomes the national conversation about player safety and the growing issue of concussions.
OTL: His Game, His Rules

Roger Goodell has made the NFL bigger, richer and more powerful -- and now more divided -- than ever before, Don Van Natta Jr. writes. Story
The NFL is facing concussion-related lawsuits from thousands of former players. In a series of interviews about head injuries with The Associated Press in December 2011, 31 of 44 players said they wanted the league to have independent neurologists at games.
Goodell said the league "will continue to make rule changes, invest in equipment and provide our medical staffs with the tools and authorities" to prevent injuries.
"Medical decisions override everything else," he said. "We know that our actions set an example."
Goodell said concussions are down 40 percent in the two seasons in which kickoffs were moved 5 yards to the 35-yard line, a change designed to create more touchbacks and fewer returns.
"Players and coaches have adjusted (to rule changes). They always do, but there is more work ahead," Goodell said. "We will find other ways to take the head out of the game. The helmet is for protection. It should not be used as a weapon."
Goodell pointed to the NFL's recently announced partnership with General Electric to develop ways to improve head protection.
"Science can be a game-changer in making sports safer," he said.
Information from The Associated Press was used in this report.
NFL On ESPN
Follow the NFL on ESPN on Facebook
NFL DRAFT PAGE | NFL NATION BLOG
DRAFT TRACKER | FREE-AGENT TRACKER
GREATEST COACHES: GRIDIRON GENIUS
DEACON JONES DIES
EIGHT IN THE BOX: CONTRACT YEARS
OPINION/ANALYSIS
MEL KIPER/TODD MCSHAY
INSIDER