Lions extend Matthew Stafford
Updated:
July 9, 2013, 8:17 PM ET
ESPN.com news services
More From ESPN.com

Matthew Stafford's contract keeps him on the road to $200 million in career earnings, writes Kevin Seifert. Blog
---

The Lions must make sure to maximize Matthew Stafford's talents after signing him to an extension -- and that means using less of Calvin Johnson, Chris Sprow writes. Story

DETROIT -- Matthew Stafford's career with the Detroit Lions just got longer.
Stafford agreed to a three-year contract extension worth $53 million in new money, a league source told ESPN NFL Insider Ed Werder on Tuesday.
He had two years and $23.5 million remaining on his previous deal. He is now under contract with the Lions through the 2017 season and is set to receive $41.5 million in guaranteed money.
Stafford, 25, signed a six-year contract worth up to $78 million, with $41.7 million in guarantees, when he was selected No. 1 overall in 2009.
The Lion King
Matthew Stafford's new contract extension guarantees him $41.5 million, the eighth most among NFL quarterbacks. Aaron Rodgers' $62.5 million guaranteed is the most in the league.
Most Guaranteed Money
NFL Quarterbacks
Quarterback
Guaranteed money
Aaron Rodgers
$62.5 million
Drew Brees
$60 million
Peyton Manning
$58 million
Tom Brady
$57 million
Tony Romo
$55 million
Joe Flacco
$52 million
Sam Bradford
$50 million
Matthew Stafford
$41.5 million
--ESPN Stats & Information
Detroit drafted Stafford No. 1 overall in 2009. After two injury-shortened seasons, he helped the franchise reach the playoffs two years ago for the first time in more than a decade.
A month ago, Stafford vowed that he would focus on football while his agent and the team negotiated.
"I don't play this game to get contracts," he said in June. "I play this game to win games."
The Lions didn't do much of that last year, losing their last eight games to flop to a 4-12 record after a 10-win season.
Stafford threw more interceptions and had less than half as many touchdown passes in 2012 as he did the previous year.
After playing in just 13 games over two seasons, he flourished in his first full year with 41 TD passes while completing 64 percent of his attempts and throwing 16 touchdowns.
He stayed on the field last season, but his passing percentage dipped as did his TD passes (20) while he threw one more interception.
"Matt's not happy with last year," Lions coach Jim Schwartz said during last month's minicamp. "None of us were happy with last year, but you also can't overreact."
SportsNation: Young NFL QBs

Matthew Stafford just got big money from the Detroit Lions. How does he stack up against fellow 25-and-under QBs?
• Cast your votes!
Stafford has spent much of this offseason splitting time between his home in suburban Detroit and team headquarters, after working out and rehabilitating injuries elsewhere in previous years.
He has looked back to analyze the previous season, seeing when it was good to take chances with passes and when it wasn't while the losses piled up after climbing to .500 midway through the season.
"It was a total, learning experience just because it was a tough year," Stafford said. "You have to find a way to battle through it."
ESPN NFL Insiders Ed Werder and Adam Schefter contributed to this report. Information from The Associated Press also was used.
THE NFL ON ESPN.COM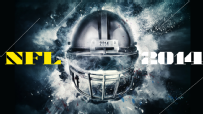 Get primed for 2014 with NFL Nation insight, video analysis, game predictions and more.