Adrian Peterson eyes Smith's mark
Updated:
July 31, 2013, 10:55 AM ET
ESPN.com news services
Adrian Peterson has his sights on Emmitt Smith's NFL career rushing record and said he expects to break the mark in 2017, even circling a date on the NFL calendar as to when he'll accomplish the feat.
Seifert: Context In Peterson's Goal

If asked whether he can do something, Adrian Peterson is invariably going to say yes, but the task of setting the all-time rushing record at his age will be daunting, Kevin Seifert writes. Blog
• SN Quiz: Top 10 rushers?
Peterson, 28, finished just eight yards shy of Eric Dickerson's single-season rushing record (2,105) last season, when he rushed for 2,097 yards. Peterson has said his goal is to reach 2,500 yards in 2013.
But he also has targeted Smith's record of 18,355 yards, and told the Star-Tribune that he expects to break the record in Week 16 of the 2017 season, even though his current pace would have him approaching the mark in Week 4 of the 2019 season.
Peterson currently has 8,849 yards. His estimate would mean it would take him 79 games to rush for the 9,507 yards needed to set the all-time rushing mark, which would require him to average 120.3 yards per game in that span.
"Whoo. That's pushing it, huh? But hey, pushing it is the only way to do it. You know it," he told the newspaper.
If Peterson does become the NFL's all-time leading rusher, he'll make history in another category as well.
Will Peterson Catch Smith?
Adrian Peterson, 28, is currently 9,506 yards away from tying Emmitt Smith's all-time rushing record. However, no player in NFL history has rushed for more than 8,195 yards after turning 28.
Most rush yards after 28th birthday
Player
Yards
Emmitt Smith
8,195
Walter Payton
7,118
John Riggins
6,900
Tony Dorsett
6,469
Thomas Jones
6,417
-- Source: Elias Sports Bureau
According to the Elias Sports Bureau, Smith holds the record for most rushing yards after a player's 28th birthday with 8,195, meaning Peterson would shatter that mark if he vaults atop the all-time rushing list.
Meanwhile, Peterson is laughing off gripes by players about the rule making it mandatory to wear knee and thigh pads this season. Peterson wore the pads last season and shrugs off claims that the pads will slow players down during games.
"I'll call B.S. on that," Peterson told FoxSports.com, which reported that he gave his answer once he finished laughing at the suggestion.
"It's like, 'You're a National Football League player. If a pad that doesn't weigh but a couple of ounces slows you down, you don't need to be playing in this league.' Like, come on now. Seriously," he told the website, adding that the pads are valuable for the protection they provide.
THE NFL ON ESPN.COM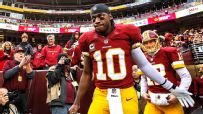 Skip Bayless examines why QB draft picks often fall short of experts' expectations.