Commentary
Is Jeffery missing piece for offense?
Bears' second-year receiver can be ideal complement to Marshall
Updated:
September 11, 2013, 5:04 PM ET
By
Scoop Jackson
| ESPNChicago.com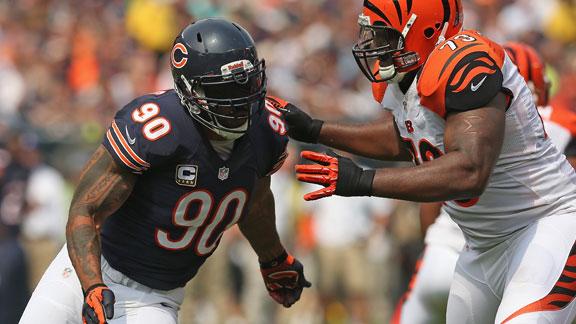 Chicago Hot Button: Defensive Linemen
Chicago Hot Button: Defensive Linemen
One game is never a good sample size for drawing conclusions.
There's that anomaly thing, that freak-of-nature thing. There's that DeMarco Murray thing; he ran for 253 yards in one game in 2011 and has only three 100-plus yard games since then.
One game, especially after Week 1 in the NFL, means nothing. Not when it comes to surveying the future. It's what makes sportswriters, columnists and analysts backtrack and look at what we wrote and said and wonder how in the hell we were even hired in the first place.
[+] Enlarge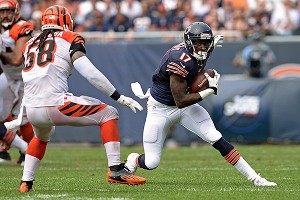 AP Photo/Greg TrottAlshon Jeffery's development in his second season should be key for the Bears' offense.
We jump like The Pointer Sisters. And 9.95 times outta 10, we are wrong. But then there are the exceptions, the chances that have to be taken in order to get in front of a story before it becomes a story. The predictions we have to make, the clairvoyance we have to display. The inside knowledge that we have to sell.
Sometimes one game is all we need to draw an intellectual conclusion. Picasso, baby.
Take the Bears' Week 1 win over the Cincinnati Bengals. Take (despite the yardage given up on long drives) the defense not seeming to miss Brian Urlacher's presence or Julius Peppers' play. Take the Bengals' mental breakdowns and Marc Trestman's demeanor as the reasons for the victory. Take Alshon Jeffery.
Yeah, that other guy, the guy eclipsed by Brandon Marshall's radiation and two guys named Bennett. The rookie from last season who was injured and missed six games, and was inconsistent when he did play. The one who oftentimes had Bears fans screaming at their televisions, the one who is theoretically No. 4 or 5 on the team's depth chart when it comes to options for Cutler.
Alshon, let's take him. Let's take his Week 1 as that sample that may be the single most important one-game conclusion that we can arrive at to determine the outcome of the rest of the Bears' entire season.
For weeks leading up to the season opener, all of the talk/concern surrounding the Bears seemed to be about ball distribution and how Jay Cutler playing "catch" with Marshall was going to be the downfall of the team's offense. Jeffery's five catches in Week 1 equaled the most he's had in his 11-game NFL career, but the eight times (the most in his career) he was targeted by Cutler versus Cincy tell the more comprehensive story of what could be the foreshadowing of things to come.
Is Jeffery going to be this season's Tim Jennings? A player who lives beyond expectations but up to his potential to perfectly complement the All-Pro Marshall the way Jennings now complements all-world CB Charles "Peanut" Tillman?
Without getting too far ahead of ourselves, the answer is yes. Jeffery is about to be the player defenses and defensive coordinators are going to sleep on and wait too long to focus on because they will be holding out from week to week to see if he's for real.
ESPNChicago.com Bears Forecast

Michael C. Wright and Jeff Dickerson have 10 predictions for Marc Trestman's first season in Chicago. Gallery

Greatest Bears

| Bears blog
Don't allow the five-catch, 42-yard stat line fool you on this one. Read deeper.
Opposing coaches will say: Sooner or later the Bears are going to go back to getting Marshall double-digit looks, so let's stick with our scheme in just trying to contain him. We'd rather have Jeffery beat us than have Marshall kill us.
Then they will look up and notice how Jeffery's six-catch, 64-yard games have become the norm and how his numbers are always the constant -- along with Martellus Bennett's at tight end and the accuracy of Robbie Gould -- in tipping the scales for why the Bears keep pulling out so many three- and seven-point victories.
It's all about to add up. The Alshon algorithm. And by the time the rest of the NFL (or the NFC North) figures out what's real, Jeffery will be in a comfort zone that only Darrelle Revis can take him out of.
Jeffery could be to the Bears what Anquan Boldin will be to the 49ers once Michael Crabtree returns. Jeffery could be the receiver who, because he'll be so often in single coverage, makes it impossible for defenses to take any plays off. Not the difference-maker, but the difference-maker's difference-maker.
But it's just one game, right? One game, and the player being talked about didn't do anything spectacular or "SportsCenter"-worthy. One game, and in the locker room afterward that player didn't get the game ball. Too soon to say all this about Jeffery and even think any of the conclusions from his Week 1 performance carry over and have a chance to become the blueprint to his future.
I'm getting way too ahead of the story. Which is why being a sports columnist can be tough. Unless, of course, the story in the end ends up being an early version of the truth.
ESPN.com columnist
Columnist for ESPN.com and ESPN The Magazine
Wrote for Slam, XXL, 6 years with NBA; 4 years with Nike
NFL Team Apparel Youth Chicago Bears Brandon Marshall Navy T-Shirt Shop »