Brown on Haley: 'We're good'
Updated:
September 19, 2013, 5:59 PM ET
By
Scott Brown
| ESPN.com
PITTSBURGH -- Everything is fine, nothing to see here.
That was Antonio Brown's response to his sideline spat with Pittsburgh Steelers offensive coordinator Todd Haley on Monday night in Cincinnati.
[+] Enlarge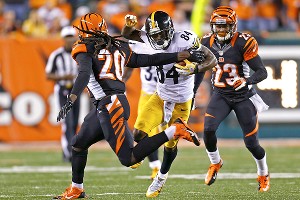 Kirk Irwin/Getty ImagesAntonio Brown had six catches and was targeted nine times in the Steelers' loss Monday. Of a report that he went to Todd Haley and demanded more touches, he said he's "good" with the coordinator.
"We're good," Brown said Wednesday after practice. "We just talked about some things we could do better as a whole and what we could do to get on the right page to start winning."
The Pittsburgh Post-Gazette reported Wednesday that Brown went to Haley during the Steelers' 20-10 loss and demanded the ball more. Brown made enough of a scene that hard feelings still lingered the day after the Steelers fell to 0-2.
Haley twice said on Thursday that there was no confrontation between him and Brown.
"There's no problem whatsoever between he or I," Haley said, "and I didn't see anything different that game interaction-wise between he and I. It was just about what it always is. For things not going well I thought those guys have handled it well."
NFL coordinators are required to talk with reporters every week there is a game, and Haley, as usual, drew a big crowd.
The Steelers rank near the bottom of the NFL in most offensive categories, and they have scored just a pair of touchdowns in two games.
Haley said the Steelers must improve, particularly on first and second down, and he doesn't care how they do it. "I'm not happy with anything right now," Haley said. "Balance is not something that's high the priority list. Be efficient when you do either or so you stay out of these potentially negative situations that we're in."
Brown also said he and Haley have talked and put the incident behind them.
"It's a little frustrating when you're 0-2 and you want to contribute to your team and be a difference out there, but you've got to stay positive," said Brown, who caught a team-high six passes against the Bengals and was targeted nine times in the game. "There's a lot more football to play, and you can't hang your head yet.
More From ESPN.com

The Steelers have looked old and slow during their 0-2 start. Kevin Seifert wonders if the team's complicated salary cap situation will continue its downward spiral beyond 2013. Blog
"Would I like [the ball] more? Absolutely. But sometimes you've got to let the game come to you. I didn't think it was a big issue. I guess that's what happens when you lose."
Only Emmanuel Sanders had more passes thrown his way (10) against Cincinnati than Brown.
Brown had 57 receiving yards against the Bengals, and he returned a punt 40 yards, setting up an early field goal. He has 11 catches for 128 yards in two games.
The fourth-year veteran will be a focal point for the Chicago Bears on Sunday night, and not just when Brown is playing wide receiver.
Chicago coach Marc Trestman compared Brown to Devin Hester, one of the top kick returners in NFL history, during a conference call with Pittsburgh media.
"He hasn't done it for 10 years like Devin has," Trestman said of Brown, "but he has the same kind of ability like Devin has."
ESPN Pittsburgh Steelers reporter
Covered Steelers for six years for the Pittsburgh Tribune-Review
Author of five books, including "Heaven Sent: The Heather Miller Story," which highlights the friendship a young girl with cancer developed with several Steelers players
THE NFL ON ESPN.COM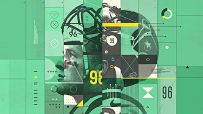 FiveThirtyEight.com reveals the secret process used to determine "Madden" ratings.
Nike Women's Home Limited Jersey Pittsburgh Steelers Antonio Brown #84 Shop »