Jay Cutler: 'Goal' is early return
Updated:
November 5, 2013, 2:40 PM ET
By
Jeff Dickerson
| ESPNChicago.com
LAKE FOREST, Ill. -- In his first public comments since tearing a groin muscle on Oct. 20, Chicago Bears quarterback Jay Cutler stated Tuesday that his goal is to return to the field before the minimum four-week timeline the team announced approximately 24 hours after Cutler suffered the injury.
More From ESPN.com

Jay Cutler's desire to return quickly from his injury shouldn't be viewed in the context of his contract year, writes Michael C. Wright. Analysis
"Yeah, that's the goal," Cutler said when asked if he is pushing toward an early return.
Just how early remains to be seen.
Bears coach Marc Trestman stopped short of officially ruling out Cutler for the team's Monday night game against the Green Bay Packers, instead calling it "highly unlikely" that Cutler will take the field in Green Bay, but Bears Pro Bowl wide receiver Brandon Marshall told ESPN 1000's "Waddle and Silvy Show" on Monday that Cutler's "worst-case scenario" would be to miss just one week and return in time to face the Detroit Lions on Nov. 10.
"Brandon is optimistic and so am I," Cutler smirked. "We'll see how it goes."
Trestman was later asked to weigh in on Marshall's adjusted timetable for Cutler.
"Brandon is a teammate and he's optimistic that his teammate will be back," Trestman said. "He's not the doctor. When I talk about a player's prognosis to play, it's not mine. It's what the doctors have said is the normal. That doesn't mean that Jay can't beat the odds and come back quicker; and again, he's optimistic. You've talked to him, he's optimistic, and we all are. I don't make that determination, the doctors do."
This represented a slight change in Trestman's tone on the subject. Just the day before, Trestman told reporters the organization planned to "stay within the framework of what the doctors gave them" in regards to Cutler's prognosis, but Tuesday the coach sounded more agreeable to the idea of an early return.
Trestman clarified: "What I'm saying is that I don't decide when Jay comes back or when any player comes back. The doctors make that decision. What I was doing was reiterating the prognosis of the doctors. They're not always right. It could happen faster. Jay's optimistic; we all are. But I'm not saying we're not bringing Jay back for four weeks. That's what the doctors have said and we'll work off that timeline. If it happens quicker, that'd be great."
There is also the issue of Cutler's unresolved contract to consider. Will the quarterback take a more cautious approach with his deal set to expire following the season?
"I'm not going to," Cutler said. "Each game is valuable, especially second half of the season. So the sooner I can get back, the better I'm going to feel helping these guys out."
Cutler acknowledged that his torn groin muscle in the most "significant" injury he's dealt with since joining the Bears in 2009, but he declined to reveal the specific nature of his rehabilitation work. The quarterback has been visible on the practice field the last two days, even catching passes from teammates, during individual drills open to the media.
"Just doing whatever the doctors and trainers tell me," Cutler said. "That's kind of the world we're living in right now. It's tough watching. It's always the hardest part, not being able to do your job with the rest of the guys. So I've just got to help Josh [McCown] as best I can. And when I get back, I get back.
"Whenever they give me the green light, we're going to go in there rocking and we can't look back. So whenever that happens, you'll see me out there."
Chicago Bears beat reporter
Dickerson has been the Bears beat reporter for ESPN Chicago since 2004. He is also a talk-show host on ESPN 1000 and the ESPN Radio network.
THE NFL ON ESPN.COM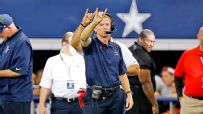 Extra points will likely be different in 2015, but how? We dissect the proposed changes.