Bears QB Jay Cutler has ankle sprain
CHICAGO -- Bears quarterback Jay Cutler left Sunday's 21-19 loss to the Detroit Lions late in the fourth quarter with what the team is calling a sprained left ankle.
Initial tests, done at Soldier Field, came back negative, according to Bears coach Marc Trestman. But the team won't know the full extent of the injury until Monday.
More From ESPNChicago

The Bears need to proceed cautiously with regard to how they'll bring along quarterback Jay Cutler in the coming weeks, writes Michael C. Wright. Blog
---

Marc Trestman's decision to stick with a limited Jay Cutler over a healthy Josh McCown until late cost the Bears, writes Jon Greenberg. Story
Cutler returned to action Sunday exactly 21 days after tearing a muscle in his left groin on Oct. 20 against the Washington Redskins. Cutler and Trestman said the groin never gave the quarterback any discomfort in Sunday's game, although it appeared to be the cause of pain on multiple occasions throughout the contest.
Cutler said he sprained the ankle just before halftime. He left the game with 2:17 remaining.
"I just didn't feel I could make some of the throws I wanted to make and move around, couldn't be as mobile," Cutler said. "[The groin] held up OK. It's all in the same leg, so I think that was a problem. We taped it up and it was stiff. But I felt like I could go as long as I kept it moving."
After Cutler injured the ankle, he spoke on the sideline with backup Josh McCown and Trestman in between every series on offense as the trio tried to remain in constant communication about Cutler's ability to continue to play.
Throughout all the dialogue, Cutler "never talked about the groin at all," according to Trestman, who added that "there was never a sense at all that he was impeded by his groin today."
Bears receiver Brandon Marshall actually said that Cutler "probably from the second drive [of the game], had all kinds of things going on him from his waist down," and called the quarterback "a soldier."
McCown entered the game just before the two-minute warning and led the Bears to a late touchdown on an 11-yard scoring strike to Marshall. Trestman said the decision to insert McCown came as the result of him wanting a quarterback with enough mobility to execute the two-minute drill.
Get the latest NFL injury news

Who's out? Who's good to go? Who's questionable? We've got all the latest injury news from around the NFL. Injury Wire
"Jay -- that drive right before Josh came in -- he just couldn't move and [was] throwing balls on the ground, and misfiring," Marshall said. "I think we had some discussions on the sideline and Jay was fighting to the end. You leave that [decision to leave the game] up to a competitor like Jay."
Cutler completed 21 of 40 passes for 250 yards and a 32-yard touchdown to Marshall in the first quarter. But after hitting 12 of 18 in the first half, Cutler connected on just 9 of 22 passes in the second half as his injuries appeared to affect the velocity of his throws.
McCown called the final decision to leave the game a "very tough" move for a player such as Cutler.
"You're a competitor and you want to be on the field, and to take yourself off the field is a hard thing to do," McCown said. "Those are things we were talking about on the sidelines, and he really struggled with it. He took as far as he could. It's selflessness by him because it would've been easy to say, 'Hey, I'm gonna stay here and I'm gonna play. I don't care how we look.' "
ESPN Chicago Bears reporter
Joined ESPN in 2010
Previously covered Jaguars and Redskins
Played college football at West Texas A&M
THE NFL ON ESPN.COM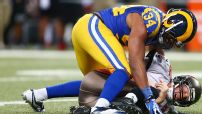 Rams have no need for Jadeveon Clowney with pass-rushing phenom Robert Quinn in house.
Nike Men's Home Game Jersey Chicago Bears Jay Cutler #6 - Extended Sizes Shop »