Nikolai Khabibulin has cuff surgery
Updated:
January 7, 2014, 3:05 PM ET
By
Scott Powers
| ESPNChicago.com
CHICAGO -- Blackhawks goaltender Nikolai Khabibulin will miss four to five months after undergoing surgery to repair a torn rotator cuff in his right shoulder, the team announced Tuesday.
General manager Stan Bowman said Khabibulin, who hasn't played since suffering a groin injury against the Nashville Predators on Nov. 16, may be able to return this season.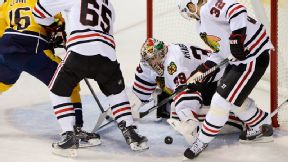 AP Photo/Mark ZaleskiBlackhawks goalie Nikolai Khabibulin will miss four to five months after having rotator cuff surgery.
Blackhawks team physician Michael Terry supervised the procedure at Northwestern Memorial Hospital and anticipates a full recovery.
Khabibulin, 40, was signed to a one-year deal by the Blackhawks in the offseason. He is 1-0-1 with a 5.01 goals-against average and .811 save percentage in four games this season.
Bowman said Khabibulin's shoulder injury had been an ongoing issue since November.
"(It was) one of those things where you try to rehab it to avoid surgery," Bowman said. "With him being out with the groin, [he] could work on it the last six weeks or so. It just never got better to the point where it wasn't going to heal without surgery."
Rookie goaltender Antti Raanta will continue to fill in for Khabibulin as the team's No. 2 goaltender. He is 11-1-3 with a 2.27 goals-against average and .911 save percentage this season.
"Antti's done an amazing job for us and he took advantage of an opportunity here," Blackhawks coach Joel Quenneville said. "He really helped solidify that position for us."
Reporter
Scott Powers is a general reporter for ESPNChicago.com. He is an award-winning journalist and has been reporting on preps, colleges and pros for publications throughout the Midwest since 1997.