Blackhawks selling melted ice
Updated:
November 18, 2013, 8:49 PM ET
By
Scott Powers
| ESPNChicago.com
The Chicago Blackhawks announced Monday they will sell limited-edition vials of melted ice from their 2013 Stanley Cup season, with proceeds going to charity.
[+] Enlarge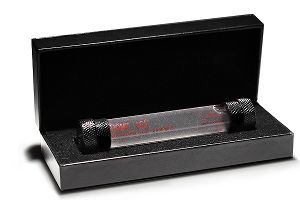 Courtesy of Chicago BlackhawksThe Blackhawks are raising money for charity by selling melted ice from their 2013 title run.
Each vial of melted ice from the United Center will cost $99, and will include an etched number of 1 through 2,013 and a certificate of authenticity. The vials are available on the Blackhawks' website.
The Blackhawks won their second Stanley Cup since 2010 during the 2013 season. They set an NHL record for the best start to a season by recording points in their first 24 games.
The Blackhawks won the Presidents' Trophy last season with a 36-7-5 record and 77 points. They went 18-3-3 at the United Center in the regular season and 11-2 at home in the playoffs. They clinched the Stanley Cup finals on the road against the Boston Bruins in Game 6.
The Blackhawks have opened the 2013-14 season with a 14-3-4 record and are tied with the Anaheim Ducks with a league-best 32 points.
Reporter
Scott Powers is a general reporter for ESPNChicago.com. He is an award-winning journalist and has been reporting on preps, colleges and pros for publications throughout the Midwest since 1997.