Commentary
Bulls: 2013-14 midseason grades
Updated:
January 24, 2014, 1:41 PM ET
By
Nick Friedell
| ESPNChicago.com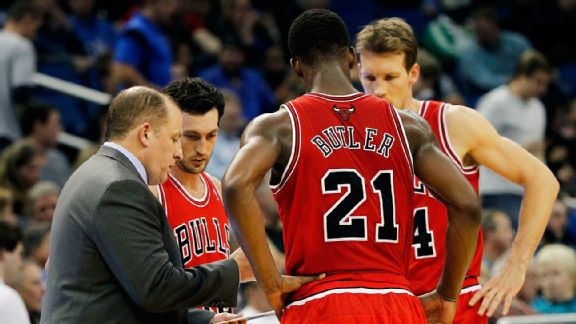 Kim Klement/USA TODAY SportsEven without Derrick Rose and Luol Deng, Tom Thibodeau has the Bulls fighting for a top-four seed in the East.
The fact that the Chicago Bulls are 21-20 at the halfway point of another forgotten season is a testament to Tom Thibodeau and his players.
But that's the difference for these Bulls. Despite the fact they lost Derrick Rose to another season-ending knee surgery and traded Luol Deng, Thibodeau has gotten his players to believe in finishing the season strong and not giving up.
There's plenty of good grades to go around as we hit the midway point of the season, and there's still room for improvement, particularly from the Bulls' young players. Check out our grades and then vote for your own and tell us why in the comments section.
Position: SF
Friedell: As Thibodeau says regarding most rookies' performances, "Some good, some bad." Snell has been up and down early on in his first season, showing flashes of becoming a solid player down the line. Coaches and teammates love his work ethic and believe he is headed in the right direction. C+.
Position: PF
Friedell: Boozer is what he is at this point in his career. And that means he is a big man who insists on taking fadeaway jumpers from 16-18 feet and being a poor defender. After a solid campaign last season, Boozer has regressed on both ends this year. C.
Position: PG
Friedell: Few could have expected Augustin to have this type of impact for the Bulls. He was waived by Toronto in December and came to Chicago with little fanfare. All he has done since then is solidify the backup point guard role and provide offense for a team that badly needed it. A-.
Position: SG/SF
Friedell: Much was expected from Butler after his breakout playoff run during last season's playoffs, but a turf-toe injury put him out about a month, and he has never been able to get back into a good rhythm. He continues to struggle with his jump shot. C.
Position: PF
Friedell: The veteran center wasn't expected to do much this season, so it wasn't as if his performance has been a surprise. He still works hard and is respected by his teammates, but he is at the end of his career. C-.
Position: F
Friedell: After a disappointing season a year ago, Gibson has taken the next step in his development this year and is having his best year as a pro. He put a lot of work into his post game this summer and the extra work is paying off. A.
Position: SF
Friedell: After a rough first couple of weeks, the veteran shooter has found a nice rhythm in Thibodeau's system and has had some big games for the Bulls. It will be interesting to see if the front office decides to move him before the trade deadline. B.
Position: F
Friedell: The rookie from Florida really hasn't played much this year and could be headed for a D-League stint soon. Inc..
Position: G
Friedell: The veteran point guard has played well at times, but he continues to deal with various injuries and has problems staying on the floor. C.
Position: C
Friedell: The heart and soul of the Bulls is playing the best basketball of his career. He should be heading to his second straight All-Star Game. A.
Position: PG
Friedell: Before tearing the medial meniscus in his right knee and being ruled out for the season, Rose really struggled during the first month of the season. It looked as though he might have been turning the corner during the last couple of games before his injury on Nov. 22, but he now must go through another tedious rehab process. He has played in just 50 games over the past three seasons. Inc..

Tom Thibodeau
Position: Coach
Friedell: The demanding coach is putting together another stellar year. After losing Derrick Rose again to injury and dealing with the Luol Deng trade, Thibodeau found a way to make his players believe that all was not lost this season. A.
ESPN Staff Writer
Nick Friedell is the Chicago Bulls beat reporter for ESPN Chicago. Friedell is a graduate of the S.I. Newhouse School of Public Communications at Syracuse University and joined ESPNChicago.com for its launch in April 2009.
Adidas Youth Chicago Bulls Carlos Boozer #5 Road Red Replica Jersey Shop »