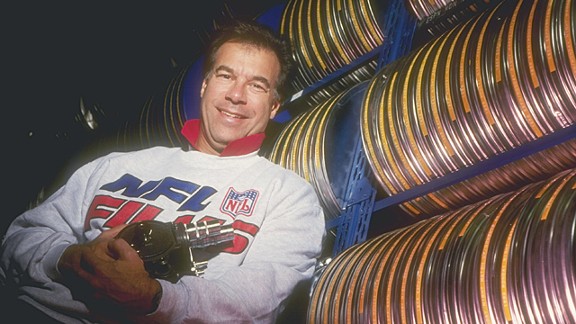 Scott Halleran /AllsportAdam Schefter tells the guys about Steve Sabol's legacy, the NFL's replacement referees and more.
• ESPN NFL Insider Adam Schefter dishes on Steve Sabol's legacy, the performance of the replacement referees, Roger Goodell, the suspensions for illegal bounties and more. Schefter

• Monday Night Football's Jon Gruden weighs in on Buccaneers-Giants, Eli Manning's late-game success, Peyton Manning, Jay Cutler, Packers-Seahawks and more. Gruden

• ESPN NFL analyst Brian Dawkins discusses Buccaneers-Giants, Jay Cutler's demeanor, being Tim Tebow's teammate with the Broncos and more. Dawkins

• College GameDay's Kirk Herbstreit covers Michigan-Notre Dame, Clemson-Florida State, Stanford's upset of USC, the state of the Pac-12 and more. Herbstreit

• ESPN MLB analyst John Kruk comments on Miguel Cabrera's pursuit of a Triple Crown, the AL MVP candidates, the NL wild-card races and more. Kruk

• Notre Dame G Mike Golic Jr. talks about being named to the 2012 Allstate AFCA Good Works Team, the Fighting Irish's 3-0 start and more. Golic Jr.

• Greeny and Golic share their thoughts on the death of Steve Sabol and the impact that Sabol made on the NFL and the coverage of sports. Listen

• Greeny and Golic wonder if Roger Goodell has been too busy to check his voicemail from the NFL's replacement referees. Listen

LIVE ON ESPNCHICAGO.COM


SUPER WEEK
TABASCO® BOLD MOMENT OF THE WEEKEND
Mike & Mike select the TABASCO® Bold Moment of the Weekend. Plus, some TABASCO® inspired recipes for the NFL playoffs. More »
#GOLICBUTTPHOTO SHIRT
Muze Clothing has created a shirt featuring the infamous #GolicButtPhoto. All proceeds benefit the South Bend Center for the Homeless. More »
FRANK CALIENDO
Our favorite moments with Frank Caliendo:
-Watch: 'A Visit from St. Nicholas'


-Watch: William Shatner


-Listen: #GolicButtPhoto voicemails


-Watch: Donald Trump


-Listen: Trick-or-Treat


-Watch: Stephen A. Smith


-Watch: Mel Kiper Jr.


-Watch: Charles Barkley


-Watch: Allen Iverson's rant


-Watch: Remembering Robin Williams


-Watch: LeBron James' letter

THE HIGHLIGHTS
Jon Gruden, NFL
Monday Night Football's Jon Gruden discusses Super Bowl media day, the Seahawks' defense, the Patriots' approach to Seattle's offense and Russell Wilson's ability to improvise.
Dan Marino, NFL
Pro Football Hall of Famer Dan Marino covers the Seahawks' strategy against Rob Gronkowski, how the Patriots should exploit Seattle's defense, Deflategate and Russell Wilson's abilities.
Seth Meyers, NFL
NBC's Seth Meyers weighs in on Marshawn Lynch's reluctance to speak with the media, Deflategate, Northwestern's win over Notre Dame and prominent figures who are good sports.
Howie Long, NFL
Pro Football Hall of Famer Howie Long covers Robert Kraft's Deflategate remarks, J.J. Watt's abilities, the Seahawks' defense, Russell Wilson's style of play and defending Marshawn Lynch.
Ron Jaworski, NFL
ESPN NFL analyst Ron Jaworski weighs in on Robert Kraft's Deflategate comments, Tom Brady's legacy, the Patriots' approach to the Seahawks and how to defend Russell Wilson.
Mike Krzyzewski, Duke
Duke coach Mike Krzyzewski comments on his achievement of 1,000 career wins, how he connects with players, the Blue Devils' schedule and one-and-dones' impact on coaching.
Charles Barkley, NBA
Basketball Hall of Famer Charles Barkley discusses Deflategate, Klay Thompson's abilities, the success of the Warriors and the Hawks, AAU basketball and which team will win the NBA title.
Shane Battier, CBB
ESPN CBB analyst Shane Battier discusses Mike Krzyzewski's achievement of 1,000 career wins, Krzyzewski's coaching philosophy and how he motivates players.
BEST OF MIKE & MIKE ON ESPN RADIO: SHOW IN REVIEW SEPTEMBER 19