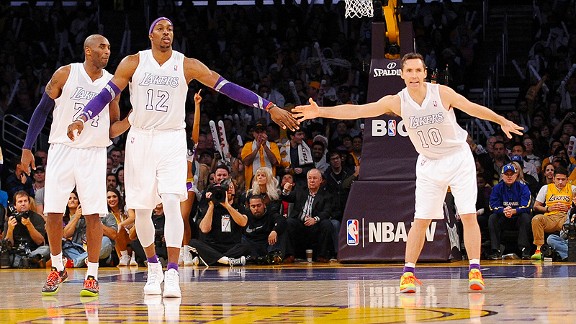 Noah Graham/NBAE/Getty ImagesJeff Van Gundy tells Mike Hill and Robert Smith about Steve Nash, the Clippers' hot start and more.
• ESPN NBA analyst Jeff Van Gundy weighs in on the impact of Steve Nash's return to the Lakers, Kobe Bryant, where the Clippers rank in the West and more. Van Gundy

• ESPN NBA analyst Antonio Davis dishes on how Steve Nash's presence changes the Lakers, the Clippers' potential, his expectations for the Knicks, LeBron James and more. Davis

• ESPN NFL Insider Adam Schefter shares his thoughts on Cowboys-Redskins, the futures of Tony Romo, Michael Vick, Chip Kelly and Bruce Arians and more. Schefter

• ESPN NFL Insider John Clayton covers Michael Vick, coaches on the hot seat, Cowboys-Redskins, Tony Romo, the injuries to DeMarcus Ware and Mario Manningham and more. Clayton

• ESPN NFL analyst Damien Woody discusses Cowboys-Redskins, Tony Romo, Robert Griffin III, the team to beat in the AFC, Peyton Manning, Adrian Peterson, Tim Tebow and more. Woody

THE HIGHLIGHTS
Brian Urlacher, NFL
Former Bears LB Brian Urlacher talks about the end of his career in the NFL, why he has decided to retire, whether he spoke with teams other than Chicago and more.
Dan Le Batard, NBA
ESPN's Dan Le Batard dishes on Pacers-Heat, LeBron James' game-winning shot, Frank Vogel's performance, Dwyane Wade, Roy Hibbert, Paul George and more.
Jon Barry, NBA
ESPN NBA analyst Jon Barry weighs in on Pacers-Heat, LeBron James' performance, Frank Vogel's decision to have Roy Hibbert on the bench for the final play and more.
Bruce Bowen, NBA
ESPN NBA analyst Bruce Bowen covers the Heat's win over the Pacers, LeBron James' game-winning layup, Frank Vogel's coaching on the final play and more.
Phil Jackson, NBA
13-time NBA champion Phil Jackson comments on whether he could return to coaching, the Lakers' future, Michael Jordan, Kobe Bryant, LeBron James, Derrick Rose and more.
Terry Francona, Indians
Indians manager Terry Francona dishes on his return to baseball, joining Cleveland, Miguel Cabrera, his time with the Red Sox, MLB's usage of instant replay and more.
Jim Boeheim, Syracuse
Syracuse coach Jim Boeheim comments on Pacers-Knicks, Carmelo Anthony's performance, Anthony's style of play, LeBron James, Roy Hibbert and more.
Brady Hoke, Michigan
Michigan coach Brady Hoke discusses his comments about Notre Dame's decision to end its series with the Wolverines after the 2014 season and more.
PODCASTS
A daily offering of the best of ESPN Radio's Mike and Mike.