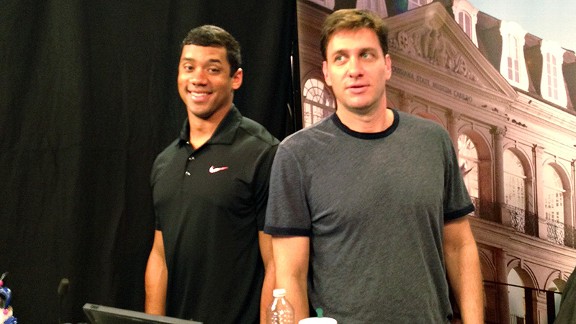 ESPN RadioRussell Wilson tells the guys about his rookie season in the NFL, the Pro Bowl and much more.
• Seahawks QB Russell Wilson weighs in on his style of play, becoming a starter as a rookie, what Seattle needs to do during the offseason, the Pro Bowl and more. Wilson

• ESPN MLB Insider Buster Olney talks about whether the latest PED allegations will mark the end of Alex Rodriguez's time with the Yankees, Rodriguez's future and more. Olney

• ESPN New York's Ian O'Connor explains why he doesn't think that Alex Rodriguez will ever play for the Yankees again. O'Connor

• ESPN Radio's Mark Schlereth comments on the defensive keys for Super Bowl XLVII, Joe Flacco, the reports regarding Ray Lewis, Alex Rodriguez and banned substances and more. Schlereth

• Super Bowl XXXV champion Brian Billick looks ahead to Super Bowl XLVII and discusses Randy Moss' comments about being the greatest WR of all-time. Billick

• FOX's Mike Pereira covers the way that games are being officiated in the NFL, the selection of Jerome Boger as the referee for Super Bowl XLVII and more. Pereira

• Three-time Super Bowl champion Daryl Johnston dishes on whether he thinks the Ray Lewis story will be a distraction for the Ravens, the 49ers' offense and more. Johnston

• Pro Football Hall of Famer Anthony Munoz shares his thoughts on player safety in the NFL, Super Bowl XLVII and more. Munoz

• Greeny and Golic react to the report that Ray Lewis was given a product that contained a banned substance in order to help heal his torn triceps. Listen

THE HIGHLIGHTS
Michael Wilbon, NFL
PTI's Michael Wilbon weighs in on the Redskins' decision to bench Robert Griffin III, Mike Shanahan's future in Washington, the Bears' QB situation and more.
Paul Finebaum, CFB
ESPN Radio's Paul Finebaum talks about Johnny Manziel's NFL prospects, Nick Saban's future, why Saban should stay at Alabama, his legacy with the Crimson Tide and more.
Chris Mortensen, NFL
ESPN NFL Insider Chris Mortensen shares his thoughts on whether Texas would recruit NFL coaches and coordinators, Nick Saban's NFL prospects, the Texans' search for a new coach, the Redskins' future and more.
John Keim, NFL
ESPN Redskins reporter John Keim shares his thoughts on the benching of Robert Griffin III, whether Mike Shanahan will lose his job due to the decision, the motives behind starting Kirk Cousins and more.
Roy Halladay, MLB
Former MLB pitcher Roy Halladay reflects on his career and talks about his decision to retire, the changes in the MLB throughout his time in the league and more.
Jimbo Fisher, Florida State
Florida State coach Jimbo Fisher comments on Jameis Winston's candidacy for the Heisman Trophy, his relationship with Winston, the nature of the BCS standings and more.
Tony La Russa, MLB
Three-time World Series champion Tony La Russa talks about being elected to the Baseball Hall of Fame and more. Plus, 1997 World Series champion Jim Leyland congratulates La Russa.
Cris Carter, NFL
ESPN NFL analyst Cris Carter covers the impact of Rob Gronkowski's injury, the Bears' win over the Cowboys, Alshon Jeffery's development, Chicago's QB situation and more.