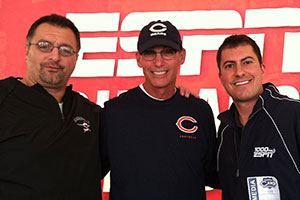 Coach Trestman stops by the booth in Bourbonnais.
Hosts: Carmen & Jurko
Weekdays 10:00 AM - 2:00 PM
E-mail: cj@espnchicago.com

Join ten-year NFL veteran John "Jurko" Jurkovic & Carmen DeFalco weekdays from 10 a.m. - 2 p.m. CT as they host the most entertaining sports talk roundtable in town.
Thursday's Show Highlights
Jeff Samardzija joined the guys live from Spring Training. Jeff said that he is looking forward to getting back to Wrigley Field after spending a lot of time out in Arizona. He said that he was working on getting his endurance up during his start on Wednesday and what some things are that he has learned over the years out in Spring Training. Jeff discussed the latest with his contract situation with the Cubs and what he thinks he needs to prove to the team this year.
Chris Broussard jumped on with Carmen and Jurko to discuss his story of Joakim Noah's recruitment of Carmelo Anthony. Chris said that the two talked over All Star weekend in New Orleans. He said that Anthony told Noah that he loves the way that the Bulls play and that his son's favorite player is Derrick Rose. Chris said that Rose wants to add more talent to the Bulls and that Rose would welcome Anthony to the team.
Download the latest podcast
PODCASTS
Never miss a show. Download or stream Carmen & Jurko podcasts.

LIVE ON ESPNCHICAGO.COM
SportsCenter AM
4:00 AM-5:00 AM

All Times CT On-Air » Streaming »