Coors Light and Silvy would like to invite all college football fans to At The Office sports bar Crestwood for a Coors Light College Football Party.
We'll meet at At the Office in Crestwood and watch some great College Football games. We'll watch Northwestern play Illinois, Purdue take on Indiana, and the biggie – Michigan vs. Ohio State. It's going to be a Big Ten football bonanza.
We'll have plenty of Coors Light and ESPN Chicago prizes for the At the Office customers that come out and play with us on Saturday, November 24.
So come out and see Silvy and watch some great college football. We'll see you there!
Saturday, November 24
12 p.m. - 2 p.m.
At the Office sports bar
4901 W Cal-Sag Rd.
Crestwood, IL
708-388-5520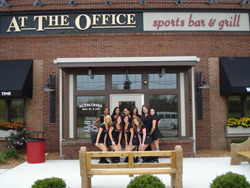 Brought to you by Coors Light and ESPN Chicago. PLEASE DRINK RESPONSIBLY.