The Jay Cutler Show
Updated:
December 30, 2012, 11:30 PM ET
ESPN 1000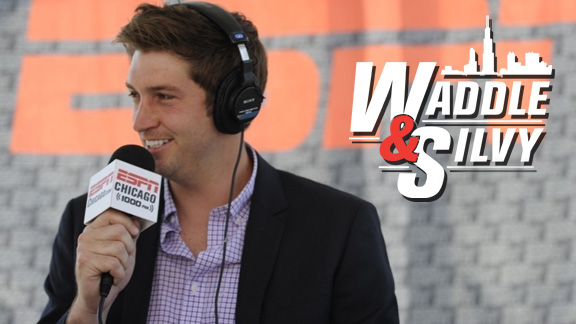 Join Waddle & Silvy with Bears QB Jay Cutler for The Jay Cutler Show on ESPN 1000!
Every week throughout the regular season, Jay Cutler will join Waddle & Silvy on location or at the ESPN Chicago Cadillac State St. Studio for an hour-long show the day after the Bears play. He'll break down the game and answer your questions. Come out to take part in all the fun. Cutler joins Waddle & Silvy at 11am!
Jay Cutler Show Schedule
| Date/Time | Location | Address | Phone | Website |
| --- | --- | --- | --- | --- |
| 9/10 - 5pm | Joe's Bar | 940 W. Weed St., Chicago | 312-337-3486 | http://joesbar.com/ |
| 9/18 - Noon | Westwood Tavern | 1385 N. Meacham Rd., Schaumburg | 847-969-9500 | http://westwoodtavern.com/ |
| 9/24 - Noon | Durbin's | 5406 West 79th Street, Burbank | 708-423-1523 | http://www.durbinspub.com/ |
| 10/2 - Noon | Cadillac State St. Studio | 190 N. State St., Chicago | 312-332-ESPN | http://espnchicago.com |
| 10/8 - Noon | 115 Bourbon Street | 3359 West 115th Street, Merrionette Park | 708-388-8881 | http://115bourbonstreet.com/ |
| 10/23 - Noon | Cadillac State St. Studio | 190 N. State St., Chicago | 312-332-ESPN | http://espnchicago.com |
| 10/29 - Noon | Joe's Bar | 940 W. Weed St., Chicago | 312-337-3486 | http://joesbar.com/ |
| 11/5 - Noon | Tommy Nevin's | 1450-1458 Sherman Avenue, Evanston | 847-869-0450 | http://www.tommynevins.com/ |
| 11/12 - Noon | Joe's Bar | 940 W. Weed St., Chicago | 312-337-3486 | http://joesbar.com/ |
| 11/20 - Noon | Cadillac State St. Studio | 190 N. State St., Chicago | 312-332-ESPN | http://espnchicago.com |
| 11/26 - Noon | Westwood Tavern | 1385 N. Meacham Rd., Schaumburg | 847-969-9500 | http://westwoodtavern.com/ |
| 12/3 - Noon | Tommy Nevin's | 1450-1458 Sherman Avenue, Evanston | 847-869-0450 | http://www.tommynevins.com/ |
| 12/10 - Noon | Miller's Ale House | 455 E Butterfield Rd., Lombard | 630-241-3371 | http://www.lombardalehouse.com/ |
| 12/17 - Noon | Hawkeye's | 1458 West Taylor Street, Chicago | 312-226-3951 | http://www.hawkeyesbar.com/ |
| 12/24 - Noon | Cadillac State St. Studio | 190 N. State St., Chicago | 312-332-ESPN | http://espnchicago.com |
| 12/31 - 9:30am | 115 Bourbon Street | 3359 West 115th Street, Merrionette Park | 708-388-8881 | http://115bourbonstreet.com |