Harry Teinowitz
Updated:
March 18, 2009, 12:31 PM ET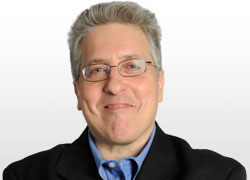 On May 3, 2001, Harry hooked up with Dan McNeil and John Jurkovic for ESPN 1000's afternoon saloon, "Mac, Jurko & Harry." Harry's eternally optimistic outlook, diverse entertainment interests and penchant for being out after dark are his trademarks.
"Happy Harry's" radio career began in October, 1994, on this very same wonderful frequency when he and fellow comic and best friend, Spike Manton, spent 17 months hosting the irreverent "Harry & Spike Show."


He gained a larger audience as a contributor to the Danny Bonaduce Show, afternoons on the Loop, for two years. After Bonaduce's departure, Harry spent a year as the sports guy on the Jonathan Brandmeier morning show.


Harry subsequently moved to WCKG and the Pete McMurray show.


In October of 1998, ESPN took over AM1000 and brought back "Harry & Spike." A year and a half later, the "Mike & Mike" show made Harry the roving reporter, spanning the country to report on the big events. Every Friday morning, Harry joined "Mike & Mike" for the fast-paced hilarity of "Good Bet, Bad Bet."


Prior to his radio life, Harry toured seven years as a stand-up comedian, appearing on A&E's "Evening at the Improv," VH-1's "Stand-Up Spotlight," and NBC's "Sports Night at the Improv."


In his "past life," Harry appeared in the cult classic Mad Magazine Presents Up the Academy with Ralph Macchio, Barbara Bach, and Robert Downey Jr. He also can be seen in the films Risky Business, The Package, and Return to Me. Before all that nonsense, you could have caught Harry on the ETC stage at Second City.


Harry's charitable efforts include co-creating Funny Money, an evening of comedy to benefit the fight against child abuse. Along with Spike Manton they raised six-figures for Child Abuse Prevention Services. Harry's favorite edition of Funny Money was the year they roasted Jerry Reinsdorf, three days after the Sox made the "white flag trade."


After growing up in north suburban Glencoe, Harry made Wrigleyville his home for over 20 years. However, realizing it's not about him anymore, as of August he and his family will call Evanston home. Harry and his wife, Wendy, a Michigan State graduate, have two children: Lucy, 5, a princess and an artist who paints cars, and Reggie, 1, whose interests include drooling and hiding the remote control.


Tiny's Top Picks:

Bruce Springsteen
Jose Cuervo
chocolate
Binaca breath spray
the T.V. show "Cheers"
thoroughbred horseracing
cool restaurants
cooler bars
Chicagothe greatest city in the world.



Want to e-mail Harry? Do it here.