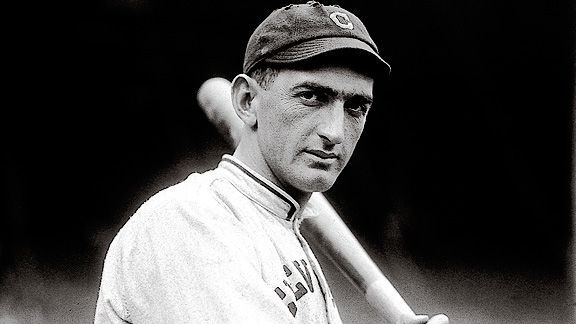 Game 1: Cubs 7, White Sox 0 »
Game 2: White Sox 3, Cubs 1 »
Game 3: 8-18 at Wrigley Field
Game 4: 8-19 at Wrigley Field
Game 5: 8-20 at Wrigley Field
Game 6: 8-23 at U.S. Cellular Field, if necessary
Game 7: 8-24 at U.S. Cellular Field, if necessary
PLAYERS OF THE GAME
H. Wilson
J. McDowell
Jackson's homer beats Jenkins, Cubs
Editor's note: Earlier this summer ESPNChicago.com asked users to select the All-Time Cubs team and the All-Time White Sox team. We are now simulating a series between the the two teams, playing a game each weekday until a winner is decided.
Game 2 - U.S. Cellular Field, Chicago, Illinois
CHICAGO -- Apparently, the digitized version of White Sox owner Jerry Reinsdorf isn't the penny-pincher real-life Charles Comiskey was.
Proof? "Shoeless" Joe Jackson isn't throwing this series, ESPN's simulation between the All-Time White Sox and All-Time Cubs. Jackson, one of eight Sox players banned for life as part of the 1919 Black Sox scandal, boosted his series average to .429 in Game 2, leading the White Sox to a 3-1 win to even the series 1-1.
Jackson's third-inning homer off Cubs starter Fergie Jenkins was the game-winner. In the eighth, Jackson doubled and scored on a Paul Konerko single, a play bringing together leaders on both sides of the Sox's 88-year World Series drought.
Hack Wilson doubled in Ron Santo for the Cubs' only run, a play that involved only about 50 years of ongoing Cubs futility.
Jack McDowell tossed eight innings of four-hit ball for the White Sox, retiring 16 straight hitters at one point. Bobby Thigpen pitched a perfect ninth for the save.
-- Alex Ruppenthal
2B-Santo, HWilson, JJackson. HR-JJackson (1). CS- BiWilliams. K-BiWilliams, Santo, HWilson, Dawson, Minoso, Konerko, Baines. BB-BiWilliams, Thomas, Baines 2. HBP-Fisk. HB-Jenkins. GWRBI: JJackson

Temperature: 68, Sky: partly cloudy, Wind: right to left at 14 MPH.