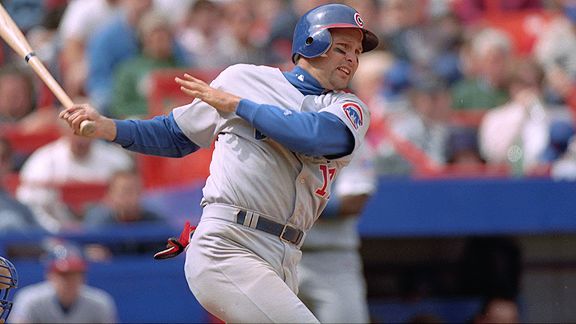 PLAYERS OF THE GAME
H. Baines
M. Grace
Cubs rough up Walsh, take series lead
Editor's note: Earlier this summer ESPNChicago.com asked users to select the All-Time Cubs team and the All-Time White Sox team. We are now simulating a series between the two teams, playing a game each weekday until a winner is decided.
Game 3 - Wrigley Field, Chicago, Illinois
CHICAGO -- With the virtual wind at Wrigley Field blowing in from center, the Cubs scored 10 runs on 13 hits -- with just one home run -- and beat the White Sox 10-5, taking a 2-1 lead in ESPN's simulated series.
The first four hitters in the Cubs lineup -- Ryne Sandberg, Mark Grace, Billy Williams and Ron Santo -- combined for 10 hits and six RBI.
The Cubs roughed up Sox started Ed Walsh, whose career 1.82 ERA is the all-time best, for four runs (three earned) in just four innings. They then showered five runs on reliever Red Faber, a spitballer who was one of the 17 pitchers allowed to continue throwing the pitch after it was banned following the 1920 season.
Grace hit his second homer of the series, and Harold Baines went deep for the Sox. Joe Jackson doubled twice and, like Baines, drove in two. Cubs starter Mordecai "Three Finger" Brown pitched a complete game, which he did in 271 of his 332 career starts, allowing five runs (three earned) on eight hits.
-- Alex Ruppenthal
E-Appling, Grace, Banks. 2B-Minoso, JJackson, 2, Sandberg, BiWilliams, Santo. 3B-Hartnett. HR-Baines(1), Grace(2). SB-Grace(1). K-Minoso, FThomas, Baines, Ordonez, Lollar, Sandberg, Banks 2, Sosa, Dawson 2, Hartnett 2. BB-FThomas, ECollins, Williams,Bi, Banks, Brown,M. SF-Thomas. PB-Fisk. WP-Walsh, MBrown. GWRBI: BiWilliams

Temperature: 78, Sky: cloudy, Wind: in from center at 6 MPH.