Commentary
5 things to know about Finland's win
Updated:
February 22, 2014, 3:25 PM ET
By
Pierre LeBrun
| ESPN.com
SOCHI, Russia -- Such a promising start to the tournament, highlighted by a thrilling 3-2 shootout win over host Russia, ended meekly for Team USA with a 5-0 loss to Finland in the bronze-medal game Saturday.
Five things to know about the game:
[+] Enlarge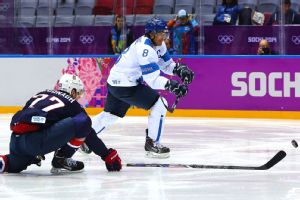 Martin Rose/Getty ImagesFor Teemu Selanne, this was not a bad way to end his Olympic career.
1. It wasn't for a lack of trying at the start of this game. I'll give Team USA credit for showing up in the opening 40 minutes before reality set in, which is sometimes in doubt for North American teams when it comes to this game. The Americans enjoyed way more puck possession in the opening 40 minutes than they did against Canada and spent lots of time in the Finnish zone. But Tuukka Rask was up to the task, and the Finnish defense cleared most rebounds, leaving the U.S. little in terms of secondary chances. But I truly don't feel as if this was a case of the U.S. suffering from the letdown of Friday night's semifinal loss to Team Canada. The Americans played hard in this game Saturday night for the opening two periods but fell short to a very good Finnish team that's always a tough out in these tournaments. Really, aside from an 11-second brain cramp by the U.S. early in the second period, the team didn't give up much at all to Finland. Obviously, once Finland made it 3-0 on the power play in the third period, the cat was out of the bag and Team USA was going through the motions at that point.
2. You've got to feel good for Teemu Selanne. In his Olympic farewell, he scored twice and collected his fourth career Olympic medal (three bronze, one silver) in six tournaments. Six Olympics! He's one of the game's classiest men, so it's fantastic to see him go out with a win plus another medal. He told reporters this week that he has a trophy case at home and room for another medal. He got his wish.
3. Patrick Kane's two penalty shot misses. Man, how often do you get two penalty shots in a game? Kane missed the net on his first attempt in the opening period on a backhand deke. In the second period, he hit the post on a zinger of a wrist shot. He got a pat on the head from captain Zach Parise when returning to the bench after the second try, clearly dejected. The two misses pretty much summed up what was a disappointing Olympics for the Blackhawks star, who didn't register a goal in six games. He did chip in four assists, but still, not the offensive output expected of him. To make matters worse, Kane was in the penalty box when Juuso Hietanen scored on the power play in the third period to make it 3-0, the nail in the U.S. coffin.
[+] Enlarge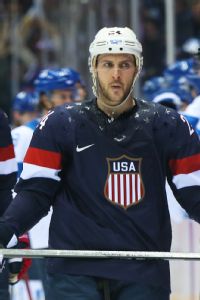 Bruce Bennett/Getty ImagesA scoring juggernaut in its first four games, Team USA failed to score against Canada and Finland.
4. A rink apparently makes a big difference.
It's interesting to note the U.S. lost two of three games at Bolshoy Ice Dome but went a perfect 3-0 at Shayba Arena. I mention this because players who have played at Bolshoy have complained about the ice quality but you didn't hear as many complaints about Shayba. Which leads me to believe the ice was better at Shayba, where Team USA lit up the opposition.
5. Hats off to Finland. The smallish country has the biggest heart in hockey. Make it four medals (three bronze, one silver) in the five NHL Olympics, more than any other country in that span. And make it five medals (four bronze, one silver) in the past six Olympics going back to 1994. OK, none of those is a gold medal, but, for the pesky Finns, it's proof they're always in the mix. That's something else this year, given the injury losses before the Games of star center Mikko Koivu and solid center Valtteri Filppula and then, two games into the tournament, the loss of first-line forward Aleksander Barkov. As Olli Jokinen so aptly put it after a quarterfinal win over host Russia, you could have 20 other different names on the back of the Suomi uniforms and the Finns would still play the same way. An incredible work ethic and the epitome of teamwork, that is Finland.
Covers the NHL for ESPN.com and TSN in Canada
Six years on the "Hockey Night In Canada" Hotstove panel
13 years at The Canadian Press National News Agency
Reebok Men's Anaheim Ducks Teemu Selanne #8 Player Replica Black T-shirt Shop »