Manti Te'o hoax continued in Miami
Updated:
January 22, 2013, 4:40 PM ET
By
Paula Lavigne
| Outside the Lines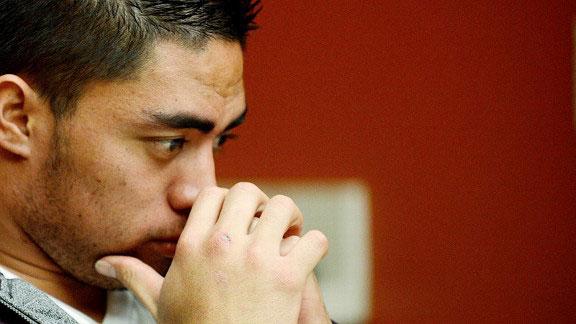 Manti Te'o Speaks
Jeremy Schaap reacts to Manti Te'o interview.
Manti Te'o Speaks
NEXT VIDEO
Manti Te'o was still being hoaxed two nights before the Discover BCS National Championship, a source told "Outside the Lines."
The Saturday night before the title game, the Notre Dame linebacker said he thought a group of people that had admitted duping him about the death of his Internet girlfriend "Lennay Kekua" was downstairs in the Notre Dame team hotel lobby trying to reach him, according to an interview Te'o did with ESPN.
However, "Outside the Lines" has learned that the stalking story appears to be just one more hoax that was played on Te'o.
More Manti Te'o Coverage

Manti Te'o's sprawling dialogue Friday night answered many questions but made the shocking turn of events no less dumbfounding, writes Ted Miller. Story
---

The elaborate prank that may or may not be Manti Te'o's love life has a long and distinguished history in the annals of comedy, writes Jeff MacGregor. Story
• Hill: Fighting Irish stumble again
• Fortuna: Support for Te'o in Indiana
• Complete interview transcript
Te'o says the stalkers sent him a photo of his hotel lobby on Jan. 5 and asked him to come down and meet them that Saturday night, but it was after the 11 p.m. ET curfew for Notre Dame players.
Te'o says he told them, "I just want to see you. Look at you square in the face and just be done with this thing. Just erase everything so I know the truth."
According to Te'o, the group claimed it couldn't get past hotel security because it didn't have the proper ID cards.
He said Lennay Kekua's sister, who was allegedly part of the group at the hotel, texted him, saying, "You know what, Manti, we're waiting for Lennay over here. ... I don't know if you're with her, but can you please tell her to hurry up, please. We're waiting," he said. "At that point, I was like, 'You know, whatever.' I hung up the phone."
But a source who is a Notre Dame fan from Southern California says she actually took the pictures that were sent to Te'o and that the people pretending to be the Kekuas were most likely not in Miami. The source said she had just arrived at the Miami airport when she got a message from "U'ilani Rae Kekua" -- the fake sister of Lennay Kekua -- asking for photos. It didn't strike her as odd initially, but started to puzzle her when U'ilani -- who the source is confident was still in California -- kept bugging her for photos at the airport, the lobby of the players' hotel, the fountain outside and even the elevators.
"I looked at my friend and said, 'Something's up,' " said the source, who does not want to be identified for fear of retribution. She knew whomever was U'ilani Kekua through Twitter, photos and a few phone calls and texts, but the two had never met in person.
Later in the day, the source saw the photos she shot being tweeted from the account belonging to the alleged Lennay Kekua, as if she and her family were in Miami. When the source confronted U'ilani about stealing her photos and using them as her own, she said the fake sister told her they were doing it to "help Manti."
"(U'ilani) said that, 'Don't be mad. He wants to know I'm here, but I don't want to distract him by seeing him. We talked on the phone before the game and the fact he knows I'm here makes it OK,' " she said.
Her anger at the time grew to rage after she found out how the hoaxers actually used the photos to bait Te'o, according to what he said in an interview with ESPN.
"When I read that part of the transcript, I almost threw up," she said. "Now I'm on fire that they used me like that."
She said she also worried about how the scenario affected Te'o's concentration leading up to the big matchup two days later. But Te'o said it did not affect his play in the game, which Notre Dame lost to Alabama 42-14.
In an off-camera interview with ESPN's Jeremy Schaap, Te'o identified the person behind the hoax as Ronaiah Tuiasosopo, a 22-year-old acquaintance who lives in California.
Data analyst and reporter for ESPN's Enterprise and Investigative Unit.
Winner, 2014 Alfred I. duPont Columbia University Award; finalist, 2012 IRE broadcast award; winner, 2011 Gannett Foundation Award for Innovation in Watchdog Journalism; Emmy nominated, 2009.
MANTI TE'O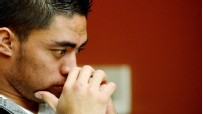 Manti Te'o denied being part of a hoax involving a relationship with a person online whom he considered his girlfriend, during an interview with ESPN on Friday night. Story »
COMMENTARY
STORIES
AUDIO & VIDEO