Cliff Alexander lists 10 schools
Updated:
June 22, 2013, 8:09 PM ET
By
Scott Powers
| ESPNChicago.com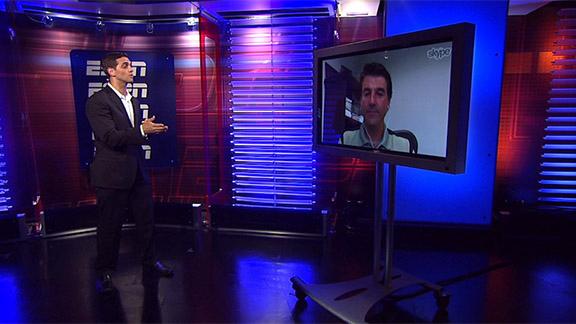 RecruitingNation: ESPN 100 Player Rankings
Paul Biancardi breaks down the new 2014 basketball recruit rankings with Phil Murphy, including the biggest movers, the highest rated newcomers and who landed the No. 1 spot in the class.
Tags:
ESPN 100
,
Paul Biancardi
,
Jahlil Okafor
,
Cliff Alexander
,
Trey Lyles
,
Tyus Jones
,
Emmanuel Mudiay
,
Chris Chiozza
,
Myles Turner
,
Justin Jackson
,
Kevin Looney
,
Chris McCullough
,
Karl Towns
,
James Blackmon
,
RecruitingNation
,
high school basketball recruiting
RecruitingNation: ESPN 100 Player Rankings
Chicago Curie High School power forward Cliff Alexander, ESPN's No. 2-ranked junior prospect, announced a list of 10 schools he's considering on Friday.
Alexander, a 6-foot-8, 225-pound power forward, tweeted Friday morning that his top-10 list in no particular order was Kansas, Michigan State, Kentucky, Louisville, Illinois, DePaul, Indiana, Memphis, Baylor and Arizona.
SportsNation: College hoops choices?

Highly touted hoops prospect Cliff Alexander just narrowed his list to 10. If you were him, how would you rank his college choices?
• Rank 'em!
Alexander's club coach, Mac Irvin Fire coach Mike Irvin, thought the inclusion of DePaul and Illinois on Alexander's list was significant for both programs.
"That's a great step for both local teams," Irvin said. "Cliff is one of the best players in the country, and he's a game-changer at the college level. He can not only lead you to the NCAA tournament, but to the Final Four. DePaul coach Oliver Purnell and assistant Billy Garrett have done a nice job recruiting Cliff. Illinois coach John Groce and assistant Paris Parham have also been great."
Illinois also made the top-eight list for Chicago Whitney Young center Jahlil Okafor, ESPN's No. 1-ranked junior. Arizona, Baylor, Kansas, Kentucky and Michigan State also made both players' lists.
Irvin believes the two big men could end up at the same school. They already play together for the Mac Irvin Fire.
"Why not?" Irvin said. "One is a power forward, and one is a center. I could see that happening."
Alexander is visiting Kansas on Friday and is expected to visit Illinois on Saturday.
Okafor and Alexander have continued Chicago's recent run of highly ranked players. Simeon forward Jabari Parker, a Duke recruit, was ranked No. 2 in the Class of 2013. New Orleans Pelicans forward Anthony Davis, who played at Perspectives in Chicago, was ranked No. 1 in the Class of 2011.
Reporter
Scott Powers is a general reporter for ESPNChicago.com. He is an award-winning journalist and has been reporting on preps, colleges and pros for publications throughout the Midwest since 1997.