The votes are in. The people have spoken. And their message is loud and clear.
Lame Sports Trophies simply can't be constrained to a single article.
Last month, we offered our selections for the Lamest Trophies in Sports -- that is, the trophies that seem unnecessary. The ones you can't believe exist. The ones that embody pride ... in accomplishments that don't quite merit tangible memorials. Awards given out because somebody somewhere just wanted to do so. Awards that appear cheap, underwhelming, patently ridiculous to the eye.
Turns out we missed a few.
More than a few, in fact.
Thanks to your feedback, we have a whole new list of dubious hardware. Herein, part II of Page 2's Lamest Trophies in Sports:
---
The BP Cup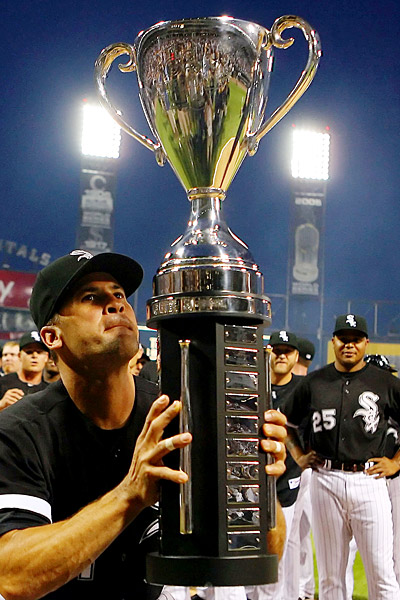 Dennis Wierzbicki/US PRESSWIRE
Given to: The winner of the annual interleague series between the Chicago Cubs and White Sox.
Lameness quotient: Moderate. Cubs and White Sox fans aren't particularly fond of each other's teams. (To wit: White Sox fan Barack Obama taking an official White House jab at the Cubs' World Series woes.) The trophy itself is unobjectionable, if a bit plain, like something you might win in a top-flight bowling league. So what's the problem? Try untimely guilt-by-association: Just as late 2009-early 2010 was a tough time to be a corporate sponsor of Tiger Woods, summer was a dicey time to be sponsored by the company that turned the Gulf Coast into a gas station drainage gutter. Was Enron Goldman Sachs not available?
Fun fact: Fans at Wrigley Field booed when the BP Cup was unveiled at the start of the annual six-game Cubs-White Sox series in June. According to Page 2 reader Sam from Chicago, fans at U.S. Cellular Field also booed when the trophy was presented to the White Sox for winning this year's series.
Reader comment: Eric from Chicago writes, "If the Cubs not winning a World Series in over 100 years wasn't bad enough, they now compete for a natural disaster cup."
---
The Land Grant Trophy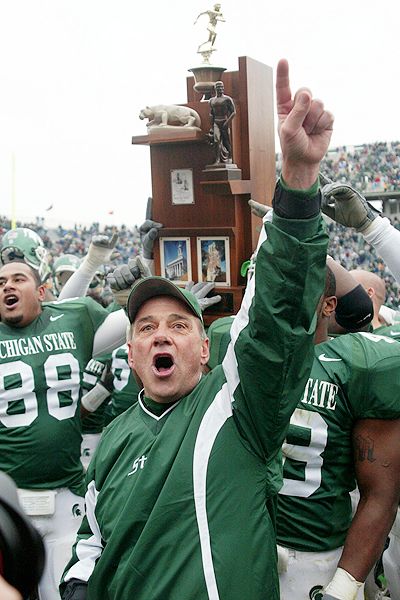 AP Photo/Bob Brodeck
Given to: The winner of the Penn State-Michigan State football game.
Lameness quotient: Flirting with so-lame-it's-ironically-cool status ... but painfully unable to close the deal. A Ford Pinto-esque combination of ignominious form and dubious function, the Land Grant Trophy exists because Penn State needed annual rivalry games when it joined the Big Ten, so somehow Michigan State was drafted into service, because Penn State and Michigan State are the nation's two oldest land grant colleges, and thus was born a storied clash of two proud programs, pitting brother against brother and -- oh, for the love of Joe Paterno's coke-bottle specs, just look at the thing. It's hideous, the trophy equivalent of Homer Simpson's self-designed car, a physically mismashed award -- you needed three different statuettes? Really? -- to be handed out on the Island of Dr. Moreau, where the trophy case shelves are topped by trophies that ... also have shelves.
Fun fact: Believe it or not, the trophy was designed by former Michigan State coach George Perles. And not Michael Graves.
Reader comment: Jay from Alabama writes, "It looks like a piece of dorm room furniture -- like there's a refrigerator and a sock drawer contained inside."
---
The Silver Plate Trophy
Given to: The winner of the minor league baseball season series between the Reno Aces and the Las Vegas 51s.
Lameness quotient: Very, very high. Never mind that the award resembles a YOU ARE HERE foot traffic sign from a local zoo; when the headline of a Las Vegas Sun article asks, "Could the 51s and the Aces turn into a minor league rivalry?" the matchup in question probably doesn't deserve its own commemorative hardware.
Fun fact: After the teams split their first series in 2009, Las Vegas mayor Oscar Goodman and Reno mayor Bob Cashell broke the stalemate by drawing cards.
Reader comment: None, but thanks to Phil from Reno for the heads-up.
---
The Dick Suderman Trophy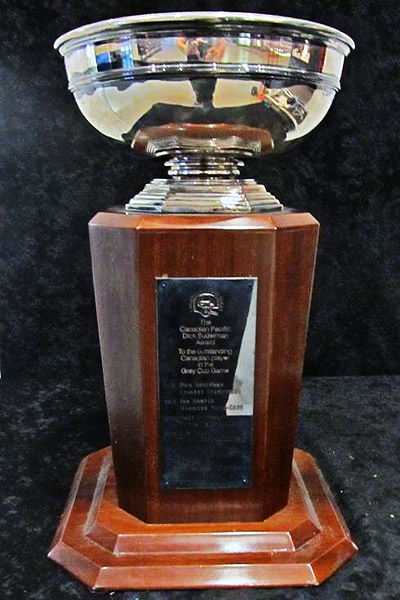 The Canadian Football Hall of Fame and Museum
Given to: The most valuable Canadian player in the Grey Cup, the Canadian Football League's championship game. No, seriously.
Lameness quotient: Out beyond the Voyager space probes. The CFL is, in fact, Canadian. The league plays by Canadian rules, in Canadian cities, for a Canadian championship trophy. It presumably is sponsored by Canadian beer. That said, the CFL's title game has two different MVP trophies -- the first for Canadians, the other for everyone else (read: Americans). Aren't Canadians supposed to be enlightened, snow-hardy and disdainfully above America's petty, grasping vanity? Isn't it enough to be the home of Alan Thicke and Justin Bieber?
Fun fact: While no kicker has ever been the Grey Cup MVP, kickers have won the Suderman Trophy 12 times.
Reader comment: Ian from Canada writes, "You create a special award just for you to make yourself feel special -- but in fact, it just exposes how NOT special you are. How's that for irony?"
---
The Izod IndyCar Championship Series Trophy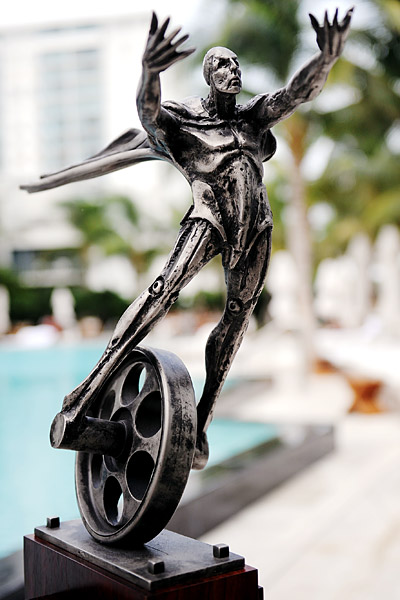 Associated Press
Given to: The winner of the IndyCar Series championship.
Lameness quotient: A topped-off tank of utter absurdity. Championship cups? So passé. Declasse, even. That's the message from sculptor Ted Gall, who after creating IndyCar's new title trophy said, "The drivers were really tired of getting bowling trophies. They're bowls or something that doesn't relate to what they're doing ... [IndyCar] is giving artwork to the drivers about what they are." Indeed. Nothing says race car driver like a caped, burnt cadaver riding Johnny Hart's wheel from "B.C."
Fun fact: The trophy is a dead ringer -- albeit smaller -- for sculptures Gall previously made for Alabama's Barber motorsports museum. Way to milk one project for two paychecks recycle!
Reader comment: Terry from Indianapolis writes, "It's sort of an angry man on a seatless unicycle." Of course, who wouldn't be a little ticked if their clown-endorsed mode of transportation didn't even have a place to sit?
---
The Trillium Cup
Given to: The winner of the season series between the Columbus Crew and Toronto FC.
Lameness quotient: A red card for ridiculousness. Infraction No. 1: The cities of Toronto and Columbus have as much of a natural rivalry as the Blue Jays and Ohio State's football team. Infraction No. 2: The Crew-FC "rivalry" is exactly three seasons old. Infraction No. 3: Just because youth soccer is awash in meaningless trophies doesn't mean MLS has to follow suit.
Fun fact: The cup is named after the trillium, the official flower of both the state of Ohio and the Canadian province of Ontario. That is, at least for now. There can be only one!
Reader comment: Said J.D. from Ohio, "As a Crew supporter, I'm only interested in four trophies: the U.S. Open Cup, the MLS Supporters' Shield, the MLS Cup and the CONCACAF Champions League trophy."
---
The Conquistador Helmet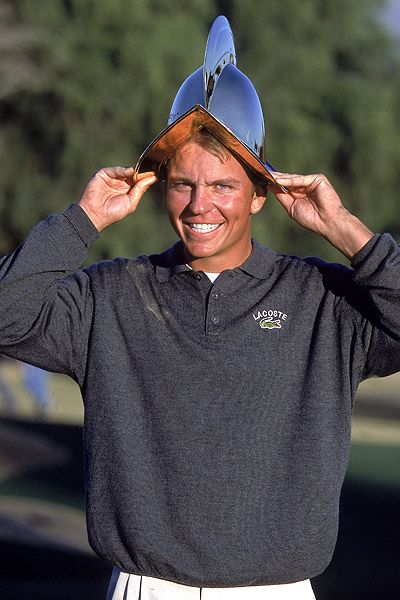 Jeff Gross/Allsport
Given to: The winner of the Tucson Open golf tournament.
Lameness quotient: Moderate. On one hand, 2006 tournament winner Kirk Triplett described the life-sized helmet as having "kind of a bucket look to it"; on the other hand, any trophy that can double as a portable cooler for ice and longnecks can't be all bad.
Fun fact: When the tournament switched to a match-play format in 2007, the gold-plated helmet was mothballed.
Reader comment: Jim from Virginia writes, "Hey, Phil Mickelson, you just won an early-season PGA Tour event. You're not conquering the New World in the name of Queen Isabella."
---
The Victory Bell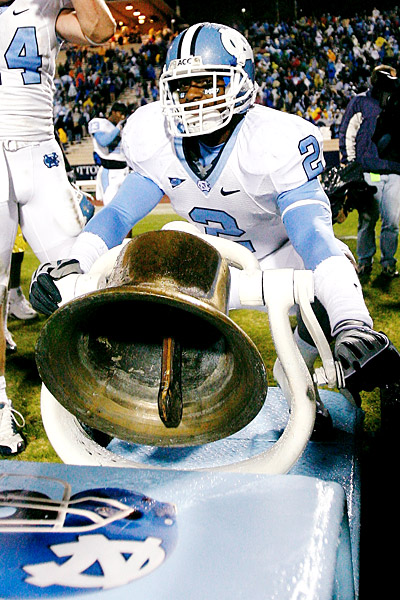 Kevin C. Cox/Getty Images
Given to: The winner of the annual Duke-North Carolina football game.
Lameness quotient: Very, very high. Let us repeat: the trophy is awarded for victory on the gridiron, as opposed to the basketball court, where both schools are, in fact, bitter rivals. Oh, and also actually good.
Fun fact: Although North Carolina has won 19 of the past 20 meetings between the two schools, Tar Heels cheerleaders proudly display the Victory Bell in front of their home stadium's student section and ring it when the school's live Ram mascot runs onto the field.
Fun Fact II: Duke and North Carolina also play for something called the Carlyle Cup, which goes to the school that wins the most varsity athletic contests between the two. Who knew?
Fun Fact III: Following North Carolina's 19-6 home victory over Duke last season, Tar Heels quarterback T.J. Yates said, "I can't remember any Duke-North Carolina game being like this. You know -- energetic, exciting, the crowd was into it." Yeah, imagine that!
Reader comment: Jay from South Carolina writes, "Who gives a damn who wins the Bell in a stadium that is three-quarters empty on the last week of every season. Wouldn't the purpose be better served if the Victory Bell was awarded after each victory in basketball?" Well, sure. Unless by "purpose" you mean "Page 2 having something to make fun of." In which case, no.
---
The Peace Pipe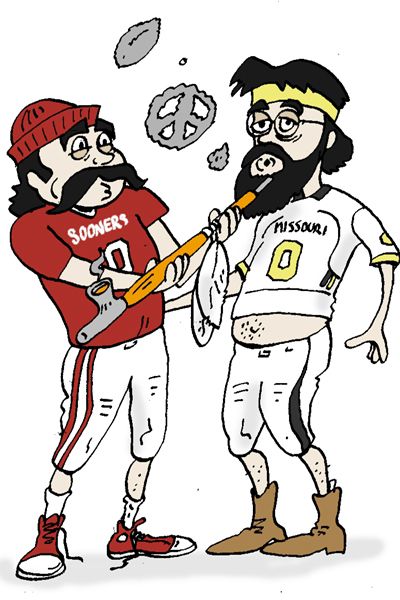 Kurt Snibbe/ESPN.com
Given to: The winner of the Oklahoma-Missouri football game.
Lameness quotient: High and low. Look, the trophy itself is all kinds of awesome, mostly because the Peace Pipe tradition grew out of students from an Oklahoma honor society meeting up with their Missouri counterparts to smoke the thing at halftime. However, the trophy apparently was lost in the 1970s, and no one from either school seems to care.
Fun fact: The Missouri honor society mentioned above is called "Mystical Seven." Wonder what they were smoking ...
Reader comment: None. But if you know where the Peace Pipe is -- or find it under a dorm couch, next to an empty Fritos bag -- please drop us a line.
---
The Orange Bowl Trophy
Given to: The winner of the Orange Bowl junior tennis tournament.
Lameness quotient: Higher than the tallest orange tree in the universe. Well, unless you're hungry. Or suffering from scurvy. Congratulations! You've just won one of the world's most prestigious junior tennis tournaments! Please enjoy a trophy that would have greatly disappointed you as an 8-year-old trick-or-treater! Hope you enjoy still life painting!
Fun fact: The Orange Bowl football game awards a similar, larger trophy -- which at least contains a decent-sized haul of fruit.
Reader comment: Jon in Virginia writes, "It's a bowl of oranges. That's it. It's just a bowl of oranges." Well, duh.
Patrick Hruby is a freelance writer and ESPN.com contributor. Contact him at PatrickHruby.net.